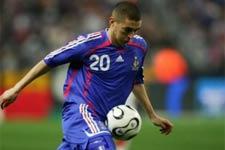 Karin Benzema debuted in the France team in their friendly match against Austria. He became one of the youngest players to ever pull on the blue jersey… and he scored…
At 19 years and 3 months of age, Karim Benzema is the 9th-youngest French player of all time, with records going back to 1945. Ahead of him on the list are Wisnieski (18 years and 2 months), Georges Lech, Meano, Chiesa (18 years and 8 months), Bravo (19 years), Anelka, Stopyra and Tusseau (19 years and 2 months). The young Samir Nasri took 17th place with his 19 years and 9 months. Also on the list of precocious talents is Fleury Di Nallo, international at the age of 19 years and 6 months. Avec Chiesa, Di Nallo and Benzema, OL is well represented.

In scoring on debut, Karim became the 92nd French international to do so. Platini as well as Zidane did the same thing in their time.

Karim has also become the 11th French international of the current Lyon squad. The list? Coupet, Réveillère, Squillaci, Abidal, Clerc, A. Diarra, Malouda, Toulalan, Govou, Wiltord, Benzema. 8 were capped for the first time during their time at Lyon (Coupet, Réveillère, Clerc, Abidal, Malouda, Toulalan, Govou and Benzema).