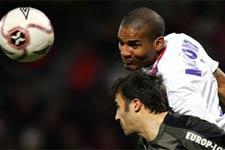 Saturday will see the 90th meeting between the Girondins de Bordeaux and the Lyonnais. The third time in the Coupe de la Ligue… and it's the big one because the Olympiens and the Bordelais have won 1 each…
The Marines were founded in 1881; OL in 1950. In terms of titles, Bordeaux has 5 championships, 3 Coupes de France and 1 Coupe de la Ligue. President Triaud's club has played in the final of a European Cup, having made 146 European appearances. L'OL, founded in 1950, has 5 championships, 3 Coupes de France, 1 Coupe de la Ligue and 5 Trophées des Champions. OL has played 138 European matches.

There have been 84 meetings between the sides in L1 and none in L2. They are two of the leading lights in French football. The Marines have won 30 times; the Lyonnais 29. 25 draws. 106 goals for OL and 121 for Bordeaux.

3 matches in the Coupe de France. In 1973, in the last 16, OL won 3-0 away then Bordeaux won 3-1 in the return leg. Lyon qualified. The Olympiens won the Coupe de France final 2-0 in 1964.

2 encounters in the Coupe de la Ligue. OL qualified in 2000, in the last 16, by beating Bordeaux 1-0. Bordeaux qualified in 2002, in the last 16, on penalties after a 1-1 draw.

That's 89 matches: 32 wins to each side and 25 draws.

The match referee will be Monsieur Piccirillo. He has refereed OL and Bordeaux once before; OL in Nice (4-1 win to OL, yellow cards to Malouda and Tiago); and Bordeaux in Nancy (Bordeaux lost 2-1, yellow cards to Darcheville and Alonso).