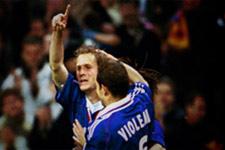 The final of the 12th edition of the Coupe de la Ligue will feature two former winners who are both also former runners-up…
The first final was held on May 3 1995 at the Parc des Princes. PSG, which featured Borelli, Bravo and Le Guen beat Bastia 2-0. The following season, in 96, Metz got the better of OL in a penalty shootout.

In 97, Strasbourg dished out the same fate to Bordeaux (0-0 then 6-5 on penalties). In 98 PSG regained the cup against Bordeaux (2-2 then 4-2 on penalties). Fournier, Gava, Maurice, Loko and Le Guen lifted the Cup under the gaze of the young Bordelais Wiltord. In 99, Lens beat Metz 1-0. Vairelles was part of the Lens outfit.

In 2000, Gueugnon caused a sensation in beating PSG 2-0. In 2001, OL beat Monaco 2-1. In 2002, Bordeaux dominated Lorient 3-0 with Dhorasoo. In 2003, it was Monaco's turn; the Monegasques obliterated Sochaux 4- 1. Squillaci scored one of their 4 goals; Giuly scored a double. In 2004, Sochaux beat Nantes (1-1 then 5-4 on penalties) with a team including Monsoreau the scorer, Pedretti and Frau.

In 2005, Strasbourg beat Caen 2-1. Devaux scored for the Alsatians, whose goals were tended by Vercoutre. Lacour also joined in. Finally in 2006, Nancy won out over Nice 2-1.

That's 11 finales. PSG has won twice in 3 attempts. Strasbourg has a perfect record: 2 out of 2.

Nouma has won it 3 times: in 95 with PSG, in 97 with Strasbourg and in 99 with Lens. 2 players have defended the trophy. Dhorasoo, in 2001 with OL and in 2002 with Bordeaux. Pagis, in 2004 with Sochaux and in 2005 with Strasbourg. Ismael, Le Guen, Rai, Raschke, Roche have won it twice. In total 154 players have etched their names on the Cup.

Bordeaux manager Ricardo won the cup as a player with PSG in 19995 and as PSG manager in 1998. He is the only man to have done so. Duguépéroux won it twice on the bench with Strasbourg.

Vercoutre, Squillaci, Cacapa, Coupet, Govou and Müller for Lyon; Jemmali and Ricardo for Bordeaux, have won this competition. Ramé, Jemmali, Micoud (twice), Darcheville (with Lorient), Jurietti (with Monaco against OL) have been runners-up. Wiltord, with Bordeaux against PSG lost in 98.

Attendance record? 78,721 in 2005 for the final: Strasbourg 2-1 Caen.