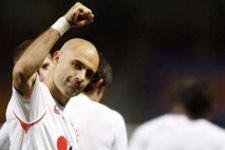 The Brazilian defender gives us his impressions 4 days out from the much-anticipated Coupe de la Ligue final between OL and the Girondins de Bordeaux.
Cris, how are your spirits ahead of this huge final? It's a final! And finals want winning. We can make history by winning the double, something this club has never achieved before. The Coupe de la Ligue is whole other competition, it's nothing like the league. Everything is riding on one match, one single match, and we're all determined to add another trophy to our cabinet.

Is this final a way of atoning for your elimination from the Champions League by Roma? The Champions League is the most prestigious competition but I don't see this final as trying to make up for it. You can't compare the two competitions. Obviously we're all disappointed to have been eliminated but now we're focused on this final. We all thought we could go further in the competition, but football's like that. One day you're smiling, then the next… anything can happen in football. After getting knocked out, you have to get up again… get back on track, focused. We're expecting a real football match against a technical side that likes to play the ball and keep possession, a bit like us. I discusses it with Claudio, who scored the first goal in the 2001 final. We will have to be careful. They have players who can make the difference at any time: Micoud with his technique, Darcheville with his pace, Ramé… I spoke to Wendel on the phone and I can tell you they're pretty motivated.

how is your preparation going?
we're leaving a few days ahead. We'll all be together to train, to talk… the internationals will be back. It's important to have the whole squad together to prepare for the match. As for me, I feel good today right now. I'm in form physically, I'm smiling and motivated. These last few matches haven't been so great but now it's going much better. I think it may have been the Champions League elimination that put me out of sorts.