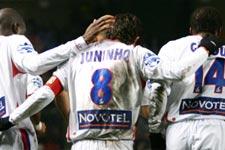 The national teams are concerned with their Euro 2008 qualifiers. 15 Lyonnais have been called up to represent their various countries. Notable mong those who are still at training in Tola Vologe in Lyon is Juninho…
"Juni" is making the most of the break to work hard and to get over some niggling injuries. The Brazilian is committed to being at the top of his game for the Coupe de la Ligue final. "In Nancy, I think I played my worst match. I hate that…". The former Vasco da Gama player has always had his head screwed on straight. "It's been three seasons in a row since I had a break. After the World Cup in Germany, I quickly returned to the squad and gave everything I had until the winter break…". So it's easily understandable that his run of form abated, also aided by the poor quality of certain winter pitches that disadvantaged his technical game. Not to mention the drive of the opposition faced and the poor form OL suffered collectively.

Juni and OL? He will wrap up his 6th season at the end of May. In round 29 of the current league season, he played his 252nd match (180 in L1). 252 matches from a possible total of 303 (83%). In his 252 matches, OL has scored 409 goals. The Brazilian himself scored 75 of them (32 free kicks, 10 penalties and 33 in open play). Of his 75 goals, only 2 came in games that ended in defeat for OL: a penalty at Lille (2-1 loss in 2004-05) and a penalty against Rennes (4-1 defeat at Gerland in 2005-06). 47 of his 75 finishes can be referred to as decisive. 75 goals including 3 hat-tricks and 8 braces. Further to that, his passes have set up 85 goals (21 from corners, 36 from free kicks and 28 in open play). Juninho has been either directly or indirectly responsible for 160 out of 409 goals, or 30% of OL's scoring during his time at he club.

In 2006-2007, "Juni" has played 34 of OL's 44 matches. OL has scored 79 goals, 49 of which came when he was playing. The native of Recife has scored 10 goals and has 4 assists in open play plus 17 from set pieces for a record of involvement in 31 of OL's 49 goals. That's 63%! Also, OL has never scored as many goals in his absence (30). This figure was 23 in 2001-02, then 24, 13, 20 and 17 in the following seasons. Juninho has missed 11 matches this season… OL won 10 times and drew once. In the past, in the absence of the Brazilian, OL notably won 8 times in 2005-06, 4 times in 2004-05… in the past, OL has also lost with him there: 4 times out of 6 in 2005-06, 6 times out of 6 in 2004-05, 8 times out of 12 in 2003-04, 12 out of 13 times in 2002-03…

"Juni" has been less successful in his shots from free kicks. He has had 95 shots on goal from free kicks this season (from a total of 134 shots) for 5 goals. He had 75 free kicks (from a total of 113 shots) in 2005-06 for 8 goals and 82 free kicks (from a total of 133 shots) for 8 goals in 2004-05.

Finally, since the break, the Brazilian has played in 13 of OL's 16 games, 9 of them in their entirety. He has scored 2 goals and has 4 assists for an involvement in 6 of OL's 12 goals scored in 13 matches. He missed 3 matches… and OL won each one of them.