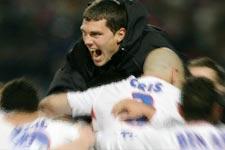 Coupe de la Ligue winner in 2005, Rémy Vercoutre played the first three matches in that competition this season. Conscious of having "already brought a lot to the team" this season, the OL keeper dreams of the double: "Punctuating my season with a trophy would be awesome".
A quick word on training. Isn't it hard to prepare for the Coupe de la Ligue final when so many of your internationals are missing?
Maybe it's not so easy for the coaching staff, but for me, there's no problem. I'm already in the right frame of mind. I've been preparing for a month now. Jo (Bats) has been giving me rigorous training sessions. I don't know whether I'll play well in the match but I will be ready. I'm doing a lot of extra work. You need to be ready, especially psychologically. That's why the manager wanted us to play the friendly match against Gueugnon. After my match in the CFA, that will make it two complete matches before the final. Which is great because I've been lacking game time. It's important to get back in the swing and get your confidence up.

The Coupe de la Ligue final will be held next week, a challenge that's familiar to you, since you won it in 2005.
The Coupe de la Ligue is now one of the club's major priorities whereas it wasn't at the beginning of the season. Everyone experienced it. The win over Paris really made a mark on us; it was perhaps one of the most beautiful moments of the season and it galvanised everyone. We told ourselves after wars that we had gotten out of a trap against Paris and that as a result we had no right to be lax about the following matches. Now that we're in the final, we have to apply ourselves to our game. As for me, I know what I'm doing. I know the stadium somewhat, the atmosphere there will be. It's very reassuring psychologically. In 2005, it was a different situation, a much less publicised final than the one we are about to play. Even though the one I won with Strasbourg sticks in my memory, it doesn't have the same scale in terms of media as this one. It'll pit the top two teams from last season against one another, two of the French Champions League teams. There's more gusto in this final.

[IMG41950#L]For you, this is a chance to add something great to l already remarkable season 2006-07.
Anything I can do to add to OL's achievement, no matter how small, will suit me just fine. I've already played more than 10 matches this season. It's the fist time Greg (Coupet) has been out for that long. So I've already brought a lot to the team. The final is maybe even more important. We won't worry about it too much but when we start a competition, we want to go all the way. At OL, I haven't often had the chance to go right to the end of a competition. Winning the Coupe de la Ligue would be the icing on the cake for the whole club. Now that we're out of the Coupe de France and the Champions League, in order to make the most of the season and to improve on those past, we have the chance to win a second trophy and reward our fans, who have been behind us all the way. They are great moments to experience, the moments you dream of as a kid, playing football in the playground at school, great football moments. Punctuating my season with a trophy would be awesome.

What kind of match are you expecting?
It'll be tricky. The second time we played them this season we had a terrible time and didn't win it by much. The match we lost to the mat home scarred us mentally. Losing to Bordeaux at home may have done us some good though. We discussed it at length in the dressing rooms. That loss cut us to the quick. On Saturday March 31, it'll be the big one that will feature two big sides designed to go all the way in the league and the Champions League. It'll be a huge spectacle. They won at our ground, we won on theirs. We'll meet in a neutral location, and it'll be a heavyweight clash.

At the moment there is a lot of talk about contract extensions at OL. How are you feeling about it all?
I want to play next season. I say it openly. I don't think it will necessarily be at Lyon. I've been sitting on the bench for a few years now. I want to play. We'll discuss it again in the break. I'll put the question to the coach and the president, and we'll discuss it calmly. It won't cause any waves.