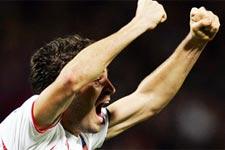 After OL's 3-0 win away to Nancy, Jérémy Berthod recognises that the title of champions of France isn't very far off. The OL left back also discusses the Coupe de la Ligue final against Bordeaux on March 31 as well as his personal situation.
How will you prepare for the final of the Coupe de la Ligue without your internationals?
We're not too worried about it. During the week we will have strong individual preparation. Some of us, like me, who haven't played much, will try to get into strong shape physically and work really hard. We will have time to think about this Coupe de la Ligue final next week. It's the big one. We won away to them and then they won when we played them on our turf, so we really have our hearts set on beating this team. The match will be decided on drive and desire; the team which has more will win.

After the results in round 29, do you feel that a 6th consecutive title is getting nearer?
First and foremost we wanted to win at Nancy. And that's what we did. This win, along with the result of Lens' match, is positive for us. We took a big step towards the title even though mathematically, we haven't won it yet.

Do you have the feeling that after being eliminated from the Champions League, you can't afford to lose this final?
Finals are great when you win them. The great Coupe de la Ligue campaign we've had will have been for nothing should we lose in the final. This cup has become one of our highest priorities for the season as it is part of a double that would be historic for the club.

From a personal point of view, you are a substitute. It's the first season in which you played so little. How has it been for you?
I won't say that it's something I really like. But that's normal: every player wants to play as many games as possible, but I'm here to serve the team. In football it can go really quickly. Last year, I should have been a substitute but Eric (Abidal) picked up an injury in Korea. So I got to play for 3 months. I've played less these past few seasons. That's how it is. That's the life of a professional footballer in a big club like Lyon. I know that ahead of me is the best left back in the world. So I prepare myself to make my mark, as I have been able to do in some matches, if I'm asked to do so. I'm a fighter and I don't give up. I know Lyon needs 25 players to win trophies and that the needs of the team are more important than those of the individual. I've already thought a lot about my situation but they are personal thoughts. I will discuss them at the end of the season. For the moment, I am Lyonnais. There are 2 objectives left on which I am totally focused: the league and the Coupe de la Ligue. At the end of the season, I will talk to the manager and the directors and examine my personal situation.