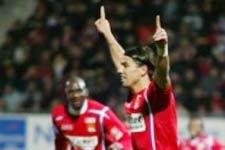 OL has racked up an amazing record on the road this season. The soon-to-be six-time French champion has already equalled its number of away victories from last season. On the road with OL…
After Nantes, Bordeaux, Nice, Lorient, Marseille, Sochaux, Le Mans, Sedan, Lens, Lille, St-Etienne… Nancy. That's 12 away wins in 15 trips (and 3 losses). OL has already done as well on the road as they did in the entire season last year; they have equaled their own record, which is also an L1 record they share with the Marseille team of season 71-72 and the Saint-Etienne side of 61-70, which played in an 18-club competition.

These 12 wins represent 36 of OL's 65 points after 29 rounds. 12 of its 20 wins. OL has scored 31 goals on the road from a total of 54; they have conceded 11 of 23 goals on the road.

Källström has scored his 3 goals away from Gerland; Benzema has scored all four of his goals on the road; Fred 5 of his 10; Juninho 4 of his 8; Malouda 4 of his 7; Wiltord 3 of his 5. Baros scored his first goal for OL on the road (1 of his 4)… OL has taken 212 of its 486 shots on goal on the road. That's an average of 14 shots as opposed to its home average of 20 per game. That gives an away average of one goal every 7 shots as opposed to one every 12 shots at home. No doubt about it, OL hits the target on the road! Away from home, OL has scored 11 goals in the final 15 minutes (of a total 20). 7 headers (total 12). 15 goals from or following set pieces (total 24).

At Nancy, OL kept its 10th clean sheet in the league: 5 at home (Troyes, Lorient, Monaco, Nancy and Auxerre) and 5 on the road (Lens, Nancy, Sedan, Sochaux and Le Mans). Grégory Coupet was in the OL goal on each of these occasions.

OL has the best defence and attack in the league both home and away. OL has taken 15 more points on the road than its nearest rival, Lens (21 points)! That's only one point fewer than OL's total lead over Lens (16 points) after 29 rounds.

OL is the only team that hasn't drawn on the road. 3 times out of 4 they haven't scored on the road (Toulouse, Rennes and Troyes) when they lost. OL drew 0-0 against Monaco at Gerland.

Away from home, OL has won by more than one goal 7 times compared to 3 times at home.

OL has received 29 yellow cards on the road from its total of 54, as well as its one red card (Juninho in Rennes).