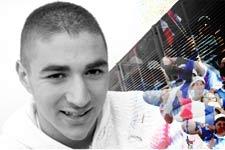 Karim Benzema is part of the squad called up by France manager Raymond Domenech for the matches against Lithuania and Austria. "Very proud" to join Les Bleus' squad, the OL youngster won't rest on his laurels after this call-up. "I'll give everything I have," he confides.
You've just been called up to the French national team. What is your reaction? It's an honour. Who wouldn't be happy to play with the French team? Since I was small, like everyone, I've dreamed of wearing Les Bleus' shirt. So I'm really proud. I was called up once before (for a match against Greece) but I got injure just before the match. Now, that's forgotten. I'm putting my best foot forward. To even be called up is a considerable thing. Training is even better. If the manager needs me, I'll be there. I will give everything I have, as I always do.

How did you find out?
I'm not the kind who waits. I was at my house with my little brother and mother, who announced I had been chosen. I was happy but it's an internal happiness. I was happy for my family. It's also thanks to Olympique Lyonnais.

In this French team you will be surrounded by OL players, so you won't be completely disoriented.
It's better for me. I'll be able to integrate into the squad quickly and easily. I'll meet up with Piquionne, who is a good friend, as well as some other young guys like Nasri, who I also know well, but also Lassana Diarra with whom I played in the France U-23 team. This shows that Raymond Domenech has faith in younger players. A new generation of young players is coming through.

Are you thinking about upcoming dates such as the Coupe de la Ligue?
No, Right now, I'm with the France team, and I'm dedicated to it. Afterwards, when I return to Lyon, I'll put all I have into winning the Coupe de la Ligue.