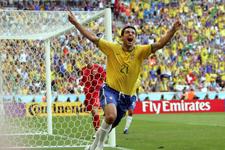 Nine Frenchmen, a Swede, a Czech, a Portuguese, a Swiss, a Brazilian and France U-23 international: 15 OL players will spend this 10-day period, reserved for international duties, with their national teams, far from Tola Vologe.
Six international players have just been added to the list of
9 Frenchmen called up by Raymond Domenech
.
Kim Källström
is one of the players called up by the Sweden coach to play Northern Ireland on March 28 in a Euro 2008 qualifier.
Tiago
got the call from Luiz Felipe Scolari to play with the Portugal team against Belgium and then Serbia on March 24 and 28 to round out their Euro 2008 qualification campaign.
Karel Brückner has capped
Milan Baros
for the matches that will pit the Czech Republic against Germany on March 24 in Prague and against Cyprus on March 28 in Liberec in Euro 2008 qualifiers.
Hatem Ben Arfa
has been retained by René Girard in the France U-23 side for the upcoming games against Denmark and Norway's U-23 teams. He will be accompanied by OL's loaned-out keeper Rémi Riou.
On March 24 and 27, Brazil will play two friendly matches, against Chile in Gothenburg and against Ghana in Stockholm. Brazil manager Dunga has once again called on the services of OL striker
Fred
.
The Swiss national team will travel to the Americas to take on Jamaica and Colombia on March 22 and 25.
Patrick Müller
has been called up by Köbi Kuhn to play in both matches.