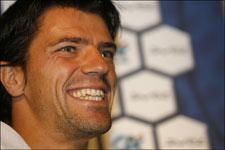 Three days away from the trip to Nancy, Grégory Coupet, France national keeper, looks back on OL's elimination from the Champions League and discusses how pleased he is to be playing at OL.
what lessons did you learn from your elimination from the champions League?
When you play in that competition, you're up against the biggest clubs. We have a coach of international standard who has a lot of experience. We have an infrastructure that should be much better than it is. At the moment, in this regard, we are well below the level of clubs like Barcelona, Milan or Bayern. We need to equip ourselves with more modern and more competitive infrastructure. The decision to build a new stadium wasn't taken lightly. After that, it's up to us to improve. Roma sent us back to the drawing board. There are grounds for regrets as we were well placed to achieve something huge this season. We have to find out what went wrong, discover what we are missing. I know OL will win the Champions League… with or without me.

Has this elimination been completely dealt with?
We're great competitors. We know how to turn the page, and we've put Roma behind us. The Champions League is for us now something for next season. From here on out we have to focus on winning the league. Even though many think the title is already won, that's not in fact the case. The next two months will probably be very difficult for our directors to manage. We know that after March 31 should expect a lot of discussion that will bring a lot of doubts and questions. After that date, many things will be set in motion. The pressure on Juninho is no small matter. Lots of players are under pressure. And it's in that kind of scenario that a team can lose the thread of the competition, by bringing their own personal case to the fore. You lose your footing. We have to be wary of all that.

A word on the match you played last night against Manchester United.
To run onto Old Trafford in front of 75,000 people in an atmosphere like that… it was really cool. I was lucky enough to play in a good team, because the first half didn't go our way. It was an official match but played like a friendly.

On Saturday, you'll take on Nancy. How are you approaching this match?
Like any match, we'll have to go out and take the three points by scoring early and killing the game off. It will be far from easy. We'll have some suspensions going into this match, which will allow Nancy to really play. Also, just after the match there will be an international round of matches plus the final of the Coupe de la Ligue. So it's really important that we're in a good state of mind as a collective. It'll be a good dress rehearsal. Quite a few players will be out to impress before the match against Bordeaux. In adversity, you must be strong. After our Champions League elimination and a draw at home, we have to bounce back and get a result in Nancy. It's important to maintain our desire to add two trophies to our cabinet this season. We have a chance on March 31 for the cup and at the end of the season for the title. It's exceptional. We were involved in 4 competitions, and now 2 are left to us. Winning the title is still a priceless ambition.

What do you think about Juninho's declarations?
He spoke honestly about how he feels. He is applying a small amount of pressure but I don't think it's anything of real importance.

where do you stand on your future at the club?
I have a year left on my contract. For me, it's still a joy. I'll make the most of the months of competition we have left by giving my all. I had a very open discussion with Mr Aulas. We have a close relationship, we've known each other for a long time. We each know how the other works. He knows he won't have any worries at all with me. There are lots of big projects for next season. Mr Aulas has lots of irons in the fire. 2010 is a real deadline for everyone here. Lots of contracts will come to term at that time. The construction of the new stadium will be an important element in tipping the scales in certain discussions. For me, playing at OL is a true pleasure and a joy. I have no reason to go elsewhere. But I have complete faith in Mr Aulas, who knows how to maintain our progression towards next season. Personally, I'm 34 years old. In France, less faith is put in players my age while it's different overseas. You just have to know where you're going, to know if you're being counted on or if you should look elsewhere.

You are about to join up with the France team? What are your spirits like?
Going to Lithuania is a rare thing, which is one of the positive sides of travelling. It will be a big challenge because there won't be many supporters there. I'll try to make an impact on the match to help my tam do something beautiful. It's a tough and important match. We just lost a match to Argentina. We have to get back to winning ways to reassure ourselves.