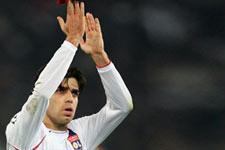 Due to pain in his protractors, Juninho won't play in tonight's match against Manchester United as part of an international side at Old Trafford. The Brazilian also discusses the upcoming clash with Nancy and his future at OL.
Can you first of all explain why you didn't travel to Manchester?
I've had pain in my protractors for three months. There is some inflammation. I hope to be able to train tomorrow but I don't even know whether I will be able to play against Nancy. It was terrific to be invited to play in such an important match with such great players. I've had a tough end to the last three seasons as I haven't had and holidays. That's why I chose to stay here and prepare for Saturday's match. Like for everyone here, the end of the season will be tough for me. But some good results could bring us a fantastic end to the season.

This match against Nancy will be the last rehearsal before the final of the Coupe de la Ligue.
I've never played a cup final with Lyon. We have the chance to notch up an historic double. But it will be very tough. Bordeaux will play the final to bring home their only prize of the season. The match against Nancy is very important. It is indeed the last rehearsal before the match against Bordeaux. Also, four players won't be able to play there. The important thing is to get a good result in Nancy, not to lose and to secure some points.

You seem slightly conflicted by your future. Can you tell us a bit about it?
I'm 32 years old and I know the reality of football. What interests me right now is the club nd finishing the season well. As for the rest, I'm undecided. I have some real history with this club. I said three years ago that I would like to finish my career herebut you never know what can happen. I have retired from international football so I could have some time out and be fresher for the league season. I will continue to do what I can to play well, to have good matches and help the team to victory. At the end of the season, I'll tell what my plans are. My priority is to extend my contract until 2010. The president is attentive to my contract situation and I'm sure he will take pains to keep me here and finish my career at Lyon. But in football things move quickly. The president assured me he was going to assemble a team to win the Champions League. That means we will have a competitive side for several years. Being part of a competitive team is also very important to me.