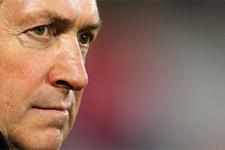 Gérard Houllier has called up a squad of 19 players for the reception of Marseille on Sunday. Jérémy Toulalan, suspended against Roma, makes his return. On the other hand Claudio Caçapa and Fabio Santos are not in the squad.
The OL squad: Diarra, Réveillère, Cris, Abidal, Clerc, Malouda, Fred, Coupet, Toulalan, Juninho, Benzema, Källström, Baros, Müller, Vercoutre, Govou, Squillaci, Wiltord, Tiago.

Gérard Houllier:

Have you dealt with the disappointment of the defeat to Roma?
Yes. We're now focused on our major objectives, which are first of all the league and then the Coupe de la Ligue. We've turned the page, and it happened naturally. We needed those four days to absorb the shock. Our disappointment was at the measure of the investment we had mad in that competition. I'm not disappointed when I hear that my players are sad. It reassures me and shows me that it's not okay with them, that it left its mark on them. We had time to deal with the shock. And you know my saying: "A good team doesn't lose twice in a row."

How do you see the match against Marseille?
It's a pivotal game because in terms of the attitude against Roma, we weren't up to scratch. It wasn't the team that made us proud. There were problems with the team but not with individuals. Certain areas of the game that win matches were neglected against Roma. We're intent on setting things straight in our game, things like set pieces, self-discipline, control of the game and a rigorous approach. So this match will be more important in terms of the content of our play than anything else. It could be the key to bouncing back. In relation to our first league meeting of the season, in which the real score was 5-0 because their goal was off side and Clerc wasn't awarded a penalty, this match is totally different. We're now in the final sprint of the season, the home stretch.

Do you think it's about revenge?
There are many things about the elimination in the Coupe de France that I haven't got over yet. I'm not an amnesiac. So I'll talk instead about setting things straight. We're at home at Gerland. You have to remember what went through before during and after the match. I'm counting on our fans to be unconditional but also intelligent.

Are you planning on making any changes to the side that took on Roma?
Yes, I won't field exactly the same team. I'll add some freshness. Against Roma, there were some replacements that weren't effected with the energy necessary to win the match. Some players played against Saint-Etienne and Roma. This match against Marseille will be an opportunity to give a breather to those who have played a lot recently.

What are your thoughts on the rough patch OM is going through?
I'm not in the habit of talking about our opponents. All the same, I hope they won't be so stupid as to fire Emon. He is a good man, a likeable fellow who has qualified his team for the semi-finals of the Coupe de France. As his colleague, I would see it as an enormous injustice. But I think Pape Diouf is an intelligent and reasonable man.