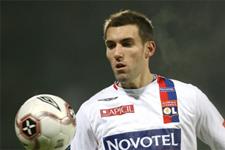 Anthony Réveillère discusses the disappointment in the OL camp after their elimination in the last 16 the Champions League and looks forward eagerly to the visit of OM to Gerland on Sunday: "We just want to get back on the pitch and win again".
How is the OL squad going?
It was a big disappointment. There's no point in hiding it. It's getting better, we're dealing with it. We had more grounds to be disappointed last year than this one. We can't let it get us down, we have to move onto other things, turn to the future. We still have 2 important objectives: the league and the Coupe de la Ligue. That's all we're thinking about. We're a squad; we lose together and win together. We're in the habit of bouncing back after a defeat, and it's up to us to show that on the field. We have to start a new page.

Have you discusses the loss with Gérard Houllier ?
We quickly summed up what went wrong, but as to what that was, it remains among us. We chose to do it yesterday rather than earlier as we were still bitterly disappointed. We now have an important match to prepare for against OM. We have to bounce back and get over the disappointment. We have to put on a show in front of our fans, who are as disappointed as we are. It's a good time for such a big match, because it doesn't allow us time to navel-gaze and over-complicate our task. We just want to get back on the pitch and win again for our fans and ourselves.

What do you do day by day to get back on track?
First it's recuperation. You have to make sure you bounce back physically after exertion even though you recuperate better after a win that after a defeat. You have to be okay mentally. It also comes with training. And nothing is won yet, we're not assured of the title. In football, things happen very fast. We can't afford to relax, we can't waste the advantage we racked up in an excellent first half of the season. We want to achieve the unprecedented feat of the league and cup double this season.