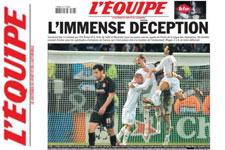 The dream is over… goodbye quarter-finals… the Gauls aren't invincible and the Romans maintain supremacy… the headlines ring out with news of this painful elimination…
[IMG41308#L]"Immense disappointment" is the headline in
l'Equipe
, accompanied by a cartoon rather harshly depicting an enormous she-wolf exclaiming "You don't belong here" to a tiny lion.
For Vincent Duluc "it's a huge slap in the face, Lyon didn't really exist against the intelligence and effectiveness of Roma. " He bangs another nail in the coffin with "Lyon is only the king of France, and has rarely seemed so far from its dream of a European crown". The editor of l'Equipe is equally harsh: "One has to wonder now what Olympique Lyonnais can do to one day touch the grail and take out the Champions League."
[IMG41303#L]For
Aujourd'hui en France
"Lyon wasn't up to scratch, Lyon never seemed capable of getting the better of the Italians." This match was, for the daily paper, "a catastrophe, a wasted opportunity, a painful slap in the face". Our colleague ends the piece with this sentence: "OL was taught a lesson about football culture at the highest level that it will take a long time to get over."
[IMG41356#L] "OL comes crashing down" is the headline in
20 Minutes
. The daily goes on to note that "OL's European dream has brutally imploded."
The headline in
Figaro
is simple and scathing "OL's downfall". The daily paper hastily blames the loss on economic factors: "Will the activities of OL Groupe be a failure? Nothing would indicate it so far, but what's certain is that the French champion's sporting arm will have to yield somewhat."<
[IMG41305#L]In
Le ProgrËs
: "OL crashes out!" Antoine Osanna can only write that "the disappointment is on par with the ambitions of a KO'd club."
The disappointment is evident in all the sports pages articles:
"Squillaci like a wounded lion, the magic ends with a miss…"
We finish this look around the papers with this reflection from Källström: "We know how to bounce back like true professionals. We still have objectives ahead of us, and we know where our problems lie." Well said.