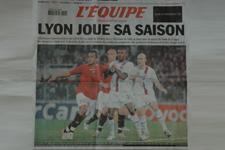 A look around the papers this Tuesday morning.
[IMG41308#L]This morning l'Equipe doesn't beat around the bush: "LYON'S SEASON ON THE LINE". OL is looking at a fourth consecutive quarter-finals appearance in the Champions League and the challenge is on par with the European ambitions of the quintuple French champions. On the inner pages, the sports daily underlines the importance of Juninho in this battle: "he's coming back into form".
L'Equipe's cartoon shows Juninho as a Gaul and Totti as a Roman.

[IMG41303#L]Aujourd'hui en France affirms that "Lyon wants another quarter-finals appearance" and says the mission is possible if OL can reproduce some of their early-season form. The daily notes that, despite some recent performances, the club has forged a strong mentality and has demonstrated an excellent capacity to control its nerves in hostile environments.

[IMG41356#L]Free daily 20 Minutes takes a look at all tonight's matches with the headline: "Lyon double or nothing, Barcelona has it all to do." Our colleagues believes that Lyon made their life difficult by getting a 0-0 draw in Rome and are now at the mercy of an away goal at Gerland. "Watch out for Totti," warns 20 Minutes while noting that OL prepare well for the match by winning in St-Etienne.

METRO: "Champions League: Everyone behind OL". Qualification is imperative. This paper also announces the collaboration of RTL and OLTV, who will simultaneously broadcast the match live.

La Gazzetta dello Sport: "To Lyon to make a mark". Notable in this long article is the reaction from Roma manager Luciano Spalletti: "It's an important game, fundamental for our future."

Le Monde looks at the match from the point of view of Robert Duverne, OL physical trainer: "At OL, I plan the physical work for everyone. In January, I had to start getting everyone ready to find the rhythm of the Champions League in March."

[IMG41305#L]Le Progrès: "Assault on the Roman fortress" as well as "Juninho-Totti, second leg".
It also contains a long interview with Jean-François Lamour, Minister for Youth and Sport. He discusses OL's introduction onto the stock market, noting that he remains wary but wishes Jean-Michel Aulas' project every success. He discusses stadium violence including the incidents at St-Etienne: "When we see images like that, when we go to a match like ASSE-OL, it seems that the game shouldn't continue. I can't understand how the match can be pursued when there are players vomiting on the pitch!

[IMG41304#L]Finally France-Football has run a survey on which clubs French people like the most. In France, TSN Sofres indicates that Marseille is the favourite and that the clubs biggest supporters are women and children.
The French club with the most beautiful game is Lyon, Raymond Domenech explains in this article: "I don't think Lyon has yet had enough setbacks in its campaigns to really move people."
European clubs preferred by French people: Real Madrid and Arsenal. European club with the most beautiful game: FC Barcelona. And Barça is unanimously supported in the south of France.