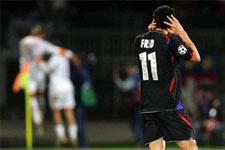 The Lyonnais feared conceding the first goal of the tie. Perhaps it was fatal. But the Roman team was superior on the night and less daunted by what was at stake. Whatever the reason, OL went down in one of the most disillusioning episodes of its European career.
Unable to breach the solid Italian defence over 180 minutes, OL dropped out early from continental competition, left with a cruel sense of wasted opportunity and underachievement. OL, a team that hadn't lost at home in the Champions League since 2002-03, broke their record at the worst moment, if such a thing exists in a competition that only rarely allows moments of weakness?
Gone in one half of football, the promising future OL saw in the group phase couldn't resist the rare Roman incursions. Adieu quarter-finals, Anfield and Athens: OL's journey came to an abrupt end. But, not having seemed up to the task in this match, OL can't cry foul.

History has shown time and time again that it's a new competition once the knockout phase begins. Rarely has a footballing cliché been so faithfully demonstrated. The OL from the first half of the season, which seemed to always be capable of reacting positively and making the difference no matter the context, seemed a distant memory. Impotent and obviously very nervous, the Olympiens seemed lost and at times even resigned to being eliminated.
Truth be told, they never seemed so far from the quarter-finals; AS Roma really constituted a very bad draw for a last-16 clash. Gérard Houllier predicted that the key to the tie lay not in OL's not conceding a goal but in OL's scoring more than Roma. But in the end OL didn't manage a single goal over both legs.
Which doesn't mean they didn't try. What crucial ingredient were the Lyonnais missing? In truth, a bit of everything. OL was forced to open up and attack when Roma opened the scoring, but that's not the only reason. Unlike the Romans, Gérard Houllier's men proved incapable of showing a different side to their game in relation to the first leg. Sure, they created more chances than at the Stadio Olimpico, but, just as in the first leg in Italy, they failed to score.

Above all they didn't have the same capacity to bounce back that they have shown in the league time and time again. Luciano Spalletti's men skilfully demonstrated the art of bending without breaking and managed to open the scoring on their first attempt. After a De Rossi goal was disallowed for a foul on Abidal (7'), the Roman captain latched onto a Tonetto cross and beat Coupet, sending a chill of fear through Gerland.

OL efforts to bridge the gap proved fruitless. Doni set the tone from the beginning, palming away Juninho's shot (4'). On a free kick by the Brazilian, Toto Squillaci was off target, as were the headers of Sidney Govou (11', 15', 38') and Tiago (27'). Florent Malouda and Squillaci both tried their luck but under-hit their shots (28', 39').
Struck again before the break by another roman goal, this time through a powerful shot by Mancini after a dazzling display of footwork in front of Anthony Réveillère (44'), the Lyonnais were faced with having to score 4 times in 45 minutes, something they hadn't been able to do over the preceding 135 minutes of the tie. Despite their evident drive and desire, Juninho and co proved fairly quickly that the task set them by the Romans was too great. Sylvain Wiltord lost in a one-on-one with Doni (50'). The Roma keeper repelled shots from Juninho (55') and Kim Källström (60'). Juninho (58' and 84'), Källström (63'), Benzema (75') and Fred (86') were off target.

Sure, the sadness is immense for a club that had only ever performed as well or better than preceding seasons in the Champions League. But disappointment and regrets aside, OL has to get going again to make sure they prevail in the 2 competitions they remain in contention for.

A motivational thought for seasons to come: In season 1991-92, Olympique de Marseille was eliminated by Sparta Prague in the second round, but went on to win the competition the next year. There is no doubt that the Lyonnais will pick themselves up quicksmart; true talent lies in coming back.