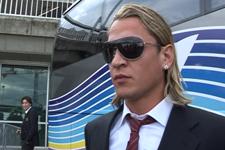 Half an hour behind schedule, the Romans arrived at Lyon Saint-Exupéry Airport this afternoon.
Luciano Spalletti, leading the group, decided to bring 22 players, including Frenchman Philippe Mexès, who stopped to talk to the French journalists. The Roma defender, for whom this trip is rather special, said: "It's a pleasure for me to come here, especially to play against Lyon. I hope everything goes well and that we leave Gerland happy and in good spirits," he declared before adding, "We know it'll be a tough match but you know, we'll give it everything. Anyway, we have nothing to lose…"

Philippe Mexès, who was teased by his team-mates, notably Totti, then rejoined his colleagues on the team bus under the gaze of several supporters. The bus headed for the centre of Lyon, where the Italians will be situated during their 2-day stay.