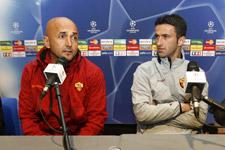 Luciano Spalletti and Christian Panucci faced the press for the traditional pre-match press conference.
Luciano Spalletti:
What kind of match are you expecting?
It's an important match that will decide a big part of our future, a very difficult match since we are playing a great team. In the first leg, we couldn't show our worth. That's why I'm confident going into this return leg. We will have to be vigilant for all 90 minutes. We will attack when possible and keep our shape and discipline throughout the match.

How do you keep your young players focused? And how do you see this match just days after a disappointing performance against Ascoli?
With the players, we have a direct dialogue. That's how we got over this problem. As for the match against Ascoli, it doesn't merit much attention. The future holds other surprises for us.

In Ascoli, your team seemed out of shape physically, unlike OL at Saint-Etienne. Do you think your team can turn things around in this respect for this last-16 clash?
the draw doesn't mean much. It wasn't sensational but I watched a good second-half performance from Roma. The players are in form. Sure, the motivation won't be the same tomorrow. Against Saint-Etienne, being favourites allowed OL to express itself at a high level and, in a way, boosted them.

A few years ago, PSV eliminated OL in a penalty shootout. Does that give you ideas?
No. We're not interested in playing for 0-0 as that would force us to play against our nature. We – OL just as much as Roma – have the qualities to win this match in the simplest way.

Do you already know the formation you will use tomorrow?
Not really because we've only had a light training session so far. As for Vucinic, he is receiving treatment and may available to play.


---
[IMG41903#R]Christian Panucci
You haven't had an away win since December 20. Do you think about it?
Tomorrow, everything will be forgotten. We won't think about it and will remain focused throughout the match. If we score straight away, we will free ourselves up. Even a 1-1 draw is enough for us. We're more sure of ourselves than in the first leg.

For 2 weeks, there has been a lot of discussion about simulation by Roma players. What do you think about it?
I don't think that's what we're like at all/ We have always had a positive attitude. We've only has one red card this season. If we're cunning, it's in terms of how we play the game, not in terms of trying to cheat our opponent.

In 2001, you lost to OL in the final of the Coupe de la Ligue. Might that affect your performance here?
No. It'll be a different match. We have everything we need to have a good match.