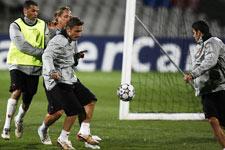 The temperature in Lyon dropped when the Romans took the pitch a Gerland for a last training session before their last-16 Champions League clash with Olympique Lyonnais on Tuesday.
It was a chance for most of the squad to familiarise themselves with OL's ground and for Vucinic to test himself out. The Serb was happy enough with some passing work, after which he left the squad for the dressing room.

The 3 keepers started the session with some specialised work with their coach. The outfield players started with sprints along the touch line before practising their ball retention skills.

The squad then divided in two. One half practiced defending set pieces while the others took the shots on goal.
The session finished with 10 on 10 on a half pitch.

The only hint of trouble in the Roma ranks: Philippe Mexes spent a few minutes on the sideline receiving treatment before rejoining the squad and finishing training as per normal.
---


[IMG41902#C]