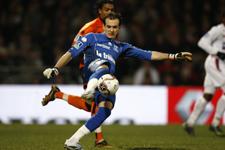 Nadir Belhadj and Rémy Riou played in Saturday in round 27 of L1.
In the position of left back, Nadir Belhadj played the entire match between Sedan and PSG (Sedan won 2-0). The on-loan OL player put in an excellent performance (garnering a score of 6.5 in L'Equipe), beginning the move that resulted in Sedan's second goal, scored by Boutabout.

At the Stade du Moustoir, Rémy Riou started once again in the Lorient goal (5.0 in L'Equipe). With the exception of a save at the feet of Kone and a save with his legs from a Rool shot, Riou had few chances to display his considerable talents. After 4 consecutive wins, Nice returned from Brittany with a respectable 0-0 draw.