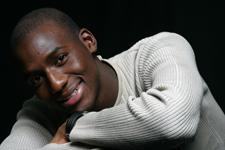 After more than 5 weeks out, Alou Diarra returned to the OL team for the clash against ASSE. The France international looks back on the events that shaped the derby and discusses the impending last 16 return leg Champions League clash with AS Roma on Tuesday.
First a word on the events that shook the derby with ASSE and the match between Sedan and PSG.
It kind of spoiled the party atmosphere. It's sad to see that kind of thing, it has to stop. Both teams had to work hard to focus again on the objective, which was the match. We managed to do it well, though. Football is a party. Joy should be the only emotion in the stadiums.

How can the players get this message across?
By scoring spectacular goals. In pleasing the public. But there will always be disappointed fans when there is a winner in the match. That's sport: you have to accept it.

You are returning to competition. We imagine you are very happy to take the field again.
Indeed. After five and a half weeks out with injury, I'm ahead of my recovery schedule. I worked really hard to come back. I really want to thank the OL medical staff who worked really hard with me and got me right to go in such a short time. It's an amazing thing. Now I'll be competitive for the rest of the season and really happy to be able to work for the team.

Was your time out of the game difficult to get through? Full of doubts?
No. No doubts, but plenty of impatience. I really wanted to help my team-mates through our bad patch. Now I'm ready to give everything to ensure we attain our objectives. I'm competitive now and very happy to be so.

The next challenge for OL is against AS Roma, a club that seems to be following you… (Laughs). Yes. It's destiny. Before coming to OL, I very nearly signed for Roma. Now I will face them on the pitch and I hope we get our qualification.

How would you qualify this match?
They are exciting games for any footballer. The Champions League is a real goal for us. We know it will be a tough match and that we will have to be patient. But we have the qualities to make it through.

What did you think of Roma in the first leg?
Dangerous in attack. With some very fast players. It's a rather solid team: they stopped us from scoring. It'll be a very tight match and there won't be much in it. We can't afford to miss the slightest detail. They're very cunning. For them, any means is acceptable to win. Even provocation. So we'll have to be very calm and unflappable as offensively, with the weapons we have, we can make the difference at any moment.

How do you manage this match after a 0-0 away?
It's double or nothing. We absolutely mustn't concede, because for every goal they score, we'll have to score 2, which would be very difficult. So we'll have to be patient. Sooner or later, we'll have a chance to make the break.

How are spirits in the squad?
We've done a lot of soul-searching and have worked hard during our breaks in order to get the team back into form. Now we're in an upward spiral. Everyone in the squad trusts everyone else, the squad is injury-free and in fine fettle. It's great for the end of the season because we really need everyone. I hope in future that we have far fewer injuries and other hitches.

A word on Totti.
He's a very frustrating player with great technique and considerable cunning. He really knows how to position himself and make good calls. He also has a good shot on him. He is the strongest link in the Roma team. We'll have to watch him closely and keep him of the ball to stop him getting his side going.

Will this be your most important match in OL colours?
If I play, yes. An exciting match to play, a last 16 return leg at Gerland where there will be a terrific atmosphere. Big things await us if we qualify. It's the kind of match every player dreams of playing in.