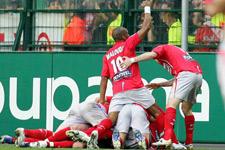 In the couple of kilometres that separate the 2 cities, the pressure had plenty of time to mount for a derby with a particular importance as much for the fans as for the clubs themselves.
Kim Källström was the first to undermine the morale of the ASSE supporters who nonetheless were in full voice… A few minutes later, Tiago finessed another blow to the home camp's confidence… and the OL fans hit their straps.

It all started with a frenzied burst from Sidney Govou, who took on 3 defenders on the edge of Janot's area. Govou controlled the ball well got it to Fred, who quickly thought to release Florent Malouda on the left. Hognon blocked the pass But it fell to Tiago who, cool, calm and collected, and with a magnificent touch, lobbed the keeper for OL's second.
So simple and yet so complicated at the same time. It's true Janot was slightly off his line, but he still should have seen it. The Portuguese international, who just a few days ago was nursing a back injury, showed he is well recovered and chase away any doubts as he doubled OL's lead with a millimetre-perfect shot. Football seems a simple game when the ball is at the feet of the OL midfielder. In fact he had a very similar effort against Nancy bounce off Bracigliano's post. This time, with the backspin "Tiag'" applied, the ball stopped dead after crossing the goal line by just a few centimetres. Thus OL's number 21 scored his 4th of the season. His last goal dates back to October 14 last year against… Jérémy Janot and ASSE at the Stade Gerland.