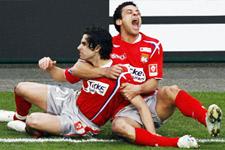 At the Stade Geoffroy-Guichard, the Lyonnais easily took out the derby against Saint-Etienne 3 goals to 1, putting themselves in the best possible position for their last-16 clash with AS Roma on Tuesday March 6.
With 10 points from their last 4 L1 matches, things are looking good for OL a few days out from their reception of AS Roma. In addition to taking the 3 points, which reinforces OL's lead at the top of the L1 table – now a massive 16 points ahead of second place – the French champions can be well satisfied with their assured performance in this much-anticipated match. OL seems to be able to take its game to a higher level whenever the situation demands.

Les Verts found this out at their own expense; and they can't re-write their history every week. First-time winners at the Parc des Princes last week, they weren't up to the task of troubling OL this week and couldn't turn around a trend that has been in place for almost 13 years (1994 and 15 derbies). The worst: in season 2004-05, they lost at the Stade Geoffroy-Guichard, suffering their worst-ever home defeat. Dominated in play and by the high stakes, they made things very difficult for themselves in a first half largely dominated by OL.
Indeed, Les Verts' openings were few and far between. Ilan tried his luck from the edge of the area to no avail (2'). Hognon's off-target header didn't trouble Coupet 922'). Toulalan, Cris and Coupet bumbled on the edge of the six-yard box (26'). Perquis couldn't find the target (41') and Hognon saw his shot blocked by Toto Squillaci (44'). And that was pretty much it for Les Verts, whose ranking of 5th on the table would have led many to expect a much more potent attacking display.
Confidently in the ascendancy, OL quickly pulled away. Continuing on from their second half against Sochaux, Gérard Houllier's men hit the dressing rooms at half time with a 2-goal advantage
Replacing Juninho in the OL engine room for the night, Kim Källström had his team's first effort. Making the most of Hognon's hasty clearance, the Swede had no difficulty in beating Jérémy Janot (29'). OL's deserved opener was just reward for a perfectly controlled start to the match by the quintuple French champions. Beforehand, Fred missed narrowly with a header (14'). Eric Abidal had shot over (23') and Kim Källström had shot wide to the right of Janot (24').
On the offensive to try to even the scores, Ilan and co left themselves open at the back and fell victim to Tiago, whose stunning lob from the edge of the area double OL's advantage (38').
Well warned just before half time, Les Verts were in for it from the beginning of the second half, their pain exacerbated by a Fred who has rediscovered his early-season form and deadly finishing. As he did against Lille, Fred took a free kick from distance and catapulted the ball in to the left-hand side of Janot's net for his 3rd goal in his last 3 L1 matches (47'), his 12th of the season in all competitions.

The late reply from Saint-Etienne wasn't enough for Ivan Hasek's men to get back into the game. After fruitless efforts from Feindouno, repelled by Coupet (60'), and Hognon, who shot over (67'), Gomis reduced the deficit with an opportunistic right-footed effort (79').
For Lyon, neither Källström (70'), nor Malouda (71'), nor Baros (82') could widen the gap in a match that had been well won for some time. The last effort from Guarin was easily captured by Coupet (90').

As has become customary in Lyon this season, OL will head into their Champions League tie having won their last L1 match, but they won't have the time to savour the victory. All eyes are now on the last-16 Champions League clash with AS Roma. Even though qualification is far from assured, OL can say they have put themselves in the best possible position to do so, linking, in a distinctly OL fashion, style and pragmatism.