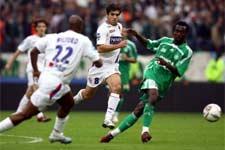 What was the match report from the first derby of the season between OL and St-Etienne? OL won 2-1 after dominating the match…
October 14 2006

39,128 spectators.

Referee: Mr Laurent Duhamel.

Half time: 0-0; goals for OL: Tiago 66', Juninho 90'. Goal for ASSE: Hautecoeur 68'.

26 minutes and 45 seconds in possession of the ball for Juninho and co compared to 17 minutes and 10 seconds!

20 shots to 3 of which 8 were on target for OL compared to 2 for ASSE. 12 shots from outside the area and 8 from inside. Juninho shot 7 times (3 free kicks, a saved penalty, a goal…), Tiago 5 times for 1 goal… No other opponent this season, in all competitions, has had so few shots on goal during 90 minutes!

18 free kicks for the quintuple champion of France compared to 17 for ASSE.

8 corners to 1.

1 off side apiece.

Vercoutre made 7 decisive saves.

1 yellow card for Juninho for time wasting (90') and a red card to Diatta for an illegal tackle when he was the last defender. br />
OL: Vercoutre – Réveillère, Squillaci, Cris, Abidal – Toulalan, Tiago (Källström 80'), Juninho – Govou (Malouda 56'), Benzema, Wiltord (Rémy 74').

ASSE: Janot – Diatta, Camara, Hognon, Ilunga – Guarin (Heinz 91'), Hautecoeur, Feindouno (Bilos 69'), Dernis (Sall 86') – Piquionne, Ilan.