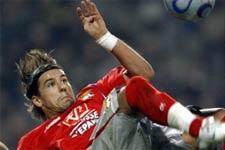 Scorer of the first OL goal against Sochaux, Milan Baros has integrated well into his new team… the Czech, of whom much was expected, has shown strong qualities in his time on the pitch so far.
Available, hard-working and an excellent target man, the former Liverpool player has scored on 2 occasions… After a good month in Lyon, he gives us his impressions… Sochaux, Ligue 1, the derby and also AS Roma… all in three responses…

His integration
I feel good… the atmosphere in the dressing room is good, the players treat me well… everything is going well and I hope it continues like this.
Against Sochaux, it was a good match for the spectators, but also for the players… with a very open final period. We trailed 3-1, but we managed to grab a point. It's good, but not enough. But in terms of the match itself, the result was quite satisfying…
For me, it was my first time playing 90 minutes in a L1 match. I'm very happy to have scored but I would have preferred to win the match and take the 3 points, even tough our lead over second place is still 13 points. Now we are all focused on Saint-Etienne and the derby… after that, we will think about the Champions League.

The league
I find the level is quite high. In England, it's more physical. Here, all the teams play good football… I'm a bit surprised by the referees, because everything is penalised. In England, for 5 years, I played physically but here it's totally different.

The coming matches
The derby? I know it's a huge match… like the derbies I played in in England… I played in Liverpool-Everton, Birmingham-Aston Villa… they are special matches… the grounds are full and the atmosphere is different. Great matches to win!
And then we have the match against Roma. I don't think the away draw was such a bad thing… 1-1 would have been better because we know that if we concede at home, we'll have to win the match… it won't be easy but we will be at home, we will create chances and do everything to win. In any case, we're planning on being there for the quarter-finals draw.