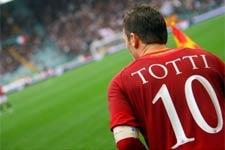 AS Roma drew 2-2 with Chievo Verona in round 26 of the Serie A…
2 goals from Totti allowed the Giallorossi to come back and finish with a draw. Chievo led 2-0 from the beginning of the match. Roma manager Spalletti had made 4 changes to the team that played OL: Chivu in place of Ferrari, Cassetti for Panucci, Tavano for Mancini and Wilhelmsson for Taddeï. Totti tops the scoring charts with 16 goals.

The team: Toni – Cassetti, Mexes, Chivu (or Ferrari), Tonetto – De Rossi, Pizarro – Wilhelmsson, Perrotta (or Rosi), Tavano (or Vucinic) – Totti.