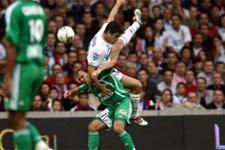 Time for the derby this weekend at Geoffroy-Guichard… The nth encounter between the local rivals… OL hasn't lost in the last 14 matches…
This will be the 93rd derby between Saint-Etienne and Olympique Lyonnais. 85 in the league, 5 in the Coupe de France, 1 in the Coupe Drago and 1 in the Challenge des Champions. 27 OL victories, 27 draws and 38 wins to Saint-Etienne. In L1, 24 wins to OL, 6 of which came at the Chaudron; 26 draws, 12 of which were in Saint-Etienne; and 35 defeats, 24 of which went down in Saint-Etienne. In the final of the Coupe Drago, ASSE won 4-0 in 1955 (Mekloufi x 2 and Njo-Léa x 2). In the final of the Challenge des Champions, Les Verts won 2-0 in 1967.

14 matches in a row without loss for the quintuple French champions. The last defeat at Gerland dates back to 26/02/93 (2-0) and the last defeat at Geoffroy-Guichard to6/04/94 (3-0). 7 wins and 7 draws.

481 players have so far taken part in the derby.

On 3 occasions OL has won the derby home and away in one season: in 1955-56, in 1971-72 and in 2004-2005.

10 seasons out of 40, ASSE hasn't won at least one of the 2 legs.

Coupet has played in 11 derbies, 9 with OL; Sablé 9, Govou 8… Coupet and Sablé both missed the last edition, the former being injured and the latter suspended along with Fred and Landrin.

Coupet has conceded 11 goals in 11 matches (4 wins, 6 draws and 1 loss). He is undefeated at Geoffroy-Guichard (1 wins and 4 draws); Janot has, in 5 matches (4 defeats and 1 draw), conceded 12 goals. Among the players on both teams, Juninho has scored 4 goals (1 free kick, 2 penalties and 1 goal in open play), Feindouno 2, Hautcoeur 1, Govou 1, Wiltord 1, Malouda 1, Tiago 1, Fred 1...

75 yellow cards for OL and 70 for Les Verts. 3 red cards for ASSE (Milla, Courault and Diatta).