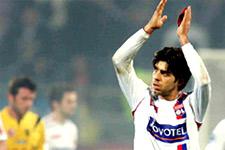 Juninho scored his 8t goal of the season… his 58th in L1; OL scored its 18th goal in the last 15 minutes of a match...
Juninho now has an OL goal tally of 75 in all competitions; 58 in the championship, 5 in the Coupe de France and 12 in the Champions League. He has scored 32 free kicks and 10 penalties… that's 42 goals from dead ball situations. He has missed 3 penalties (Nantes, Real and St-Etienne). He has taken 123 shots this season, including 86 free kicks and 2 penalties.

The Olympiens have in the league scored 18 of their 47 goals in the final 15 minutes. Of their total of 73 goals in all competitions, these late goals number 25. 22 came in victorious matches and 3 in draws (TFC and Sochaux).

The quintuple French champion has trailed 15 times in 49 official matches. The final result? 8 wins, 4 losses and 3 draws. OL has led 23 times: 20 wins, 2 draws (TFC and Real) and 1 loss (Marseille in the Coupe de France).

The scores at half time? 16 times in favour of OL, 20 draws and 4 in favour of the opposition.

The last 3-3 at Gerland? The reception of Inter Milan in the Champions League in 2002-2003. Against Sochaux, it's the first time that Gérard Houllier paired Réveillère, right back, and Clerc, right-sided attacking midfielder. On the road this season, this pairing has been used against Bordeaux, Lens Lille and Real Madrid. François Clerc is the 2nd OL player to be taken off, after Juninho in Nice, at half time with no injury. The Brazilian was however off-colour. And there was a straight swap made at the Stade du Ray. Abidal was taken off at Troyes after taking a knock.

Which players have played the most for OL this season? Cris with 2,880 minutes leads Malouda on 2,641 and Toulalan on 2,612. That's 32 full matches for the Brazilian.

For the fifth time this season, Gerland welcomed more than 40,000 spectators. The record? For the visit of Kiev with 40,520, ahead of Sochaux with 40,363, Nancy (league) with 40,298, Lille with 40,175 and Real Madrid with 40,013. So the visit of the Doubistes is the season record… so far.