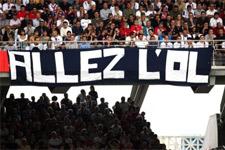 All the reactions after the league clash between OL and FC Sochaux.
Jean-Michel Aulas: "I can say that I started to lose hope at 1-2, but we were still creating chances against a very good Sochaux side, but at 1-3 it got even tougher. But our players reacted very well, and thanks to their strong drive, they managed to pull back to even terms. This match will prove to be decisive in terms of the championship, just like the match at Lille. I must congratulate the players who once again showed a strong mentality, and also to the staff, who prepared the team very well for this match and this turnaround. Some big players were rested for this match, And Gérard Houllier deserves congratulations for taking such a risk skilfully.
I'm also happy that tonight OL rediscovered its quality of play. Without the huge Teddy Richert, we would have scored a lot more goals… in Lille and against Roma we showed strong qualities… tonight, we rediscovered our game… that should silence the critics who have given us a beating recently. I hope OL will betaken seriously once again. In any case, this result has done us a lot of good. We will have all our players back for the coming games, including the derby… we have 3 goals in our sights and the players know they can go all the way in all 3 competitions."

Alain Perrin: "It was an exceptional match tonight, even emotional. The result was frustrating for us because we dropped 2 points but I can say honestly that before the match we would have taken this result gladly… things didn't quite go our way I think, notably with the last goal, but with Lyon, you have to keep your guard up until the final whistle."

Karim Ziani: "We played in a great game tonight. 6 goals, a great spectacle. But the 3-3 scoreline is deceptive, as we were 3-1 in front a few minutes from the end. Lyon is a great team, they can score at any time and tonight we fell into their trap. Congratulations to them! This kind of match teaches you a great deal…"

GÈrard Houllier: "It was a good game of football, a fabulous match. It had everything: brilliant technique, emotion, suspense, goals… the spectators must have really enjoyed it. It's a shame we conceded 2 early goals because that made the scenario ideal for them. They are very strong on the counter, skilful at moving the ball forward, and that made things tough for us. I take my hat off to the players, who put in a huge effort… it's fantastic to come back like that. The draw has the taste of a half victory!
Last year, after we won 1-0 in Eindhoven, we slipped a bit, going down 1-4 at Gerland to Rennes… I misjudged the fallout from such a big match. Tonight I wanted to adjust the team, in conjunction with the staff, and I think the players who didn't play in Rome brought a lot to our match tonight. Like Sylvain Wiltord , who was excellent, or Milan Baros, who has been missed and who made a great return. Bravo to the players, who played a very good match! It'll do us good ahead of the 3 big matches coming up: in Saint-Etienne, against Roma and then against Marseille.

Bernard Lacombe: "I had lost hope. What a feat! At 3-1, with the fatigue, the effort already spent, the pitch as it was… The match did us good, just like the one we won at Lille. The fans really helped us tonight. We came back thanks to them. What we need to take from this is that OL produced a huge performance against a team that's really hard to handle. Nino's goal hurt them a lot.

Rémi Garde: Just like at Lille, "you have to suffer to come back". We haven't lost the very OL quality of never giving up. The pitch didn't help, in terms of technique and fatigue. There were big changes for this match, and we had to find the energy to fight it out. Some new faces brought some pep to the side but this also affected our familiarity with each other. We'll have to work hard to be ready for Roma.

Fabio Santos: We were at fault tonight. We didn't mark well and Sochaux made the most of it. OL found some serious audacity to come back. I'm pleasantly surprised by this OL team that never ever gives up. Just the same, we have to be wary against Roma because small errors like tonight's could cost us very dearly.

Juninho: We didn't give up. There are pros and cons from tonight but let's be realistic: we conceded 2 quick goals 10 days before we take on Roma. We have to get back on track. If we had played Roma tonight, we would have been eliminated. But we deserved this draw when you look at how many chances we had.
The pitch made things tough for us tonight. Our ball control and our shots suffered. We have one week to prepare for the derby. It comes at a really bad time but you play the hand you're dealt.