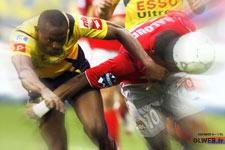 A match against a direct rival, ideal preparation before the derby and the return leg against AS Roma. Whatever the perspective, OL will be keen to notch up their third successive league win. A performance that should give some insight into how the future will turn out.
Nicely squeezed in between the much-anticipated trip to Rome in the Champions League last 16 and the eagerly-awaited derby against AS Saint-Etienne, the reception of Sochaux in round 26 of L1 has suffered from a lack of media attention despite pitting the league leaders against the 4th-placed team.
While football experts are still analysing the 0-0 draw that OL secured in the Eternal City as well as OL's chances in the return leg, Sochaux will turn up at Gerland almost unnoticed. Almost… On the official site of FC Sochaux Montbéliard, Alain Perrin says: "It's kind of like playing in Europe for us".

This doesn't meant things will be easy for Jérôme Leroy and his team-mates, who haven't beaten any of the top three L1 teams, losing to Lens twice and then to OL. Th3e only point they have taken from any of these teams they collected in a scoreless draw at home against Lille. Bur it's quite the opposite for OL, which seems to play its best football against its closest rivals. "It's a very important match because the title is won through victories over direct rivals," explains Gérard Houllier. This season, OL successively beat Lens, Lille twice, Sochaux and Marseille, making a clean sweep of its nearest rivals.
The Sochaliens' history at Gerland doesn't do much for their chances in this match either.. Three points taken from a possible 27 in their last nine visits to Lyon in the league, with the last victory dating back to March 23 1992: Sochaux will have to break the mould to avoid returning home from Lyon empty-handed once again.

They will also have to find some form in front of goal, having fallen upon lean times. They have scored only once away from home in almost 3 months, having a very lean winter. Indeed, that is one similarity between the 2 teams: just like OL, Sochaux didn't win a single match during January. The difference was the press made far less of it than with OL. Sochaux is coming off a shaky victory over Le Mans, and again like OL, it's too early to say they have rediscovered their form. Sochaux isn't yet the same team as the one on the first half of the season that secured 6 wins from 8 games, going from 13th to 4th place. But they are still lively and capable of reproducing their winning performance from the first half of the season. On a waterlogged pitch, it took a very opportunistic goal from Sylvain Wiltord to make the difference. On Saturday, the former Gunner will make his big comeback from an injury sustained a month ago. The return to action of Karim Benzema is another piece of good news for OL. These two reinforcements, long awaited by the OL manager will allow the perfectionists to breathe a bit easier. Tiago, Sidney Govou and Sébastien Squillaci will have a much-deserved rest this weekend as a result. "The team will be very fresh," promised Gérard Houllier.

Alain Perrin isn't in a position to rest such big names. In fact, only Sène, Daf and Quercia, injured, will miss the call-up. On the other hand, former Paris player Laurent Leroy is back after missing the Le Mans game with a cold. Alongside him, Jérémy Bréchet will meet up for the first time with the club where he won two French titles.

Throughout this match, the last at Gerland before the Champions league last-16 return leg, it will naturally be OL's play and their effectiveness in front of goal that will be put under the microscope, just 10 days before the reception of Roma. " It's an important match, worth more than 3 points given what's at stake," confirms Gérard Houllier before noting "the drive of his players to take another step towards their number one objective,"the championship. Whatever the perspective, OL will be strongly inspired to rack up their third successive league victory. A performance that should give some insight into how the future will turn out.