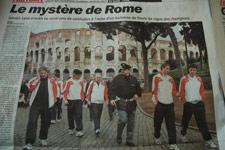 L'Equipe today focused on the disillusionment of Lille, beaten 1-0 by Manchester United… a goal scored from a dubious free kick…
Naturally the paper doesn't forget to mention that OL resumes its Champions League campaign tonight, giving 2 pages to OL alone. Vincent
Duluc
analyses and comments on OL's position going into this European tie: "For the first time in 4 years Lyon is going into the away leg of a last-16 clash without the assurance of all its considerable resources." the piece is called: "The Mystery of Rome" The sports scribe spend a few moments considering the OL midfield: "OL dominated this part of the field not that long ago, but has recently suffered key injuries and there has been a lack of brilliance." He continues: "But Juninho is there," before noting that at training on Saturday morning "the free kick session was dizzying". Our colleague ends the article with this question: "Has Lyon been waiting for this match for 2 months? If it's true, we'll soon know."
Still in l'Equipe, there is another quote on OL: "Historically, OL has met with Italian opposition 5 times in a European knockout scenario and has been eliminated 4 times." We end our look at l'Equipe with a piece
Sidney Govou
, who will tonight play his 47th Champions League match. The piece ends with a few words from jean-Michel Aulas: "I am sure he will score in Rome. When I dream, it's also him, I see him scoring the winning goal in the final of the Champions League, if we win one day."
Website
Football 365
reckons the duel between Roma and OL is evenly poised and underlines what Juninho said: "not to lose there would be a great result."
Aujourd'hui en France
shares its anger after Lille's defeat: "One goal unfairly disallowed, a contentious goal for the Mancunians, a match ruined by the referee." As for Lyon, Roma is on the cards: "Lyon goes into this with no fear; 48% of the supporters of the Italian club put OL as favourites in this last-16 clash. But let's be wary of surveys," remarks the sports daily all the same.
Le Progrès
confirms that with 5 league titles and 3 Champions League quarter finals, the OL team inspires respect and fear in its opponents. A great result would be a scored draw or a victory, as it would keep OL's chances in the best possible shape. The two managers are confident;
Gérard Houllier
is convinced his team is on the right track and will rely on his team's experience while
Luciano Spalletti
thinks he can dismantle the five-time French Champions.
20 minutes
looks back at the Dogues' defeat to Man.U at the Stade Bollaert. Lille were beaten against the run of play and against spirit of the game and find themselves in a tight spot ahead of the return leg. As for OL, the way to the quarter finals is through Rome. The free daily asks: "Will this last-16 clash be capped with victory as it has for the last three years? Having eliminated in recent years Real Sociedad, Werder Bremen and PSV Eindhoven, OL seems to have this year stumbled upon an adversary of a higher calibre. The OL manager seems confident and believes the experience his team has can make the difference against the Giallorossi."
Finally
Mancini
in the sports daily dedicated to AS Roma,
« Il Romanista »
defines tonight's match as "a World Cup final" because of the fact that 5 finalists from last July could take the pitch together.
Finally, on the club's official website, "asroma.it", the online survey asks which team is favourite for tonight. OL led its opponent with 86.2% of the vote against only 13.8% for Roma.