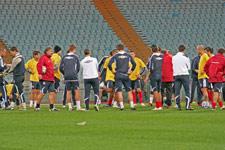 At 17:30, the Olympiens will step out onto the pitch at Rome's Stadio Olimpico. A magnificent ground of sparkling green…
Before OL's last training session, and coming as no great surprise, Spalletti, in the AS Roma press conference, spoke of his clubs great respect for OL. "This team is very well organised. We have to watch out. Juninho? He is really dangerous, but not just for his stunning free kicks. But for all that there won't be an anti-Juninho plan. OL has more experience than Roma, but in this kind of game, Roma has always given as good as it gets. We must be wary of the attacking prowess of OL, notably the French left flank. OL's weakness? That'll be the Roman fans and the Italian atmosphere."

A few minutes after the Italian press conference, Coupet and co find themselves on the pitch at the Olimpico. Just the basics for this last run-through. Tiago participated from the start to the end… but is he really fit to play? His back pain handicapped him, just like Francesco Totti, who received treatment rather than training. And while Mexes could play, Chivu has been withdrawn.

The Roma stadium will be packed out on Wednesday night. What a stadium, the site of so many great sporting moments! Michael Riley, match referee, has already presided over OL in the last 16 of the Champions League. Against PSV Eindhoven at Gerland and against Real Sociedad in San Sebastian. OL fans won't have forgotten that heir heroes won both times…

Coming back to the hotel, we bump into Monique and Robert, 2 dedicated OL fans. "We've been fans since 1952. For me, a married man, OL is my mistress…". Robert knows his wife Monique will allow him his terms of endearment for his beloved club. Confidence exists, but it is coloured by wariness. For Gilbert, a member of the Gastro Gones, the game will finish 2-1 to OL. Meanwhile Gino the waiter works slowly. We overhear that Lille lost to Manchester, while Madrid beat Bayern 3-2 in a sloppy display. In a few hours, OL will be in action. Let's hope it's the all-conquering winning machine OL that steps out onto the field.