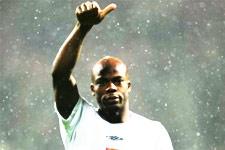 OL will play its 65th Champions League match, counting preliminary rounds. OL finds itself in the last 16 for the fourth consecutive season…
Never 3 without 4? OL has always won in the last 16 for a record of 6 wins from 6 matches: Real Sociedad (1-0 and 1-0), Werder Bremen (3-0 and 7-2) and PSV Eindhoven (1-0 and 4-0). OL have always played the first match away and Juninho has scored 2 free kicks (Werder and PSV). Malouda, Coupet and Juninho have played in these 6 matches. Only Malouda played every minute of each one. Coupet gave ay to Vercoutre due to injury (15') in the return leg against Real Sociedad; Juninho was subbed off after 76 minutes at Gerland against PSV.

Coupet, Müller, Berthod, Juninho, Malouda, Govou, Vercoutre, Clerc played in 2003-2004 against Real Sociedad. Coupet, Juninho, Malouda and Govou have played in at least one of these 3 last-16 clashes.


Last-16 goal scorers? Wiltord 5 goals, Juninho 3, Tiago 2, Essien 2, Malouda 1, Fred 1, M Diarra 1, Berthod 1.

Referees? De Santis (Italy), Riley (England), De Bleeckere (Belgium), Ivanov (Russia), Vassaras (Greece), Riley (England).

Cards ? Govou x 3, Berthod x 2, Wiltord x 2, Juninho x 2, Coupet, Edmilson, Malouda, Diarra. Having received 2 cards against PSV in the away game, Govou was sent off. Note: Wiltord has had 2 yellow cards since coming to OL… and he got them in the last 16 of the Champions League (at Eindhoven and Werder).

OL has played 12 European matches against 4 Italian teams. 4 in the Champions League, 2 of which were in the group phase, the other 2 in the quarter-finals; 6 in the UEFA Cup and 2 in the Inter-Cities Fairs Cup. 5 wins, 3 draws and 4 losses; 8 goals scored by 8 different players (M Diarra, Govou, Anderson, Giuly, Caveglia, Maurice, Assadourian, Cossou). Inter Milan 6 matches, Bologna 2, AC Milan 2, Lazio Rome 2. On the road, the Olympiens have won 3 times, including once at the Stadio Olimpico against Lazio in 95-96.

Although none of the players of these 4 Italian teams have ever played for OL, 2 former OL players have gone onto play for Italian giants: BrÈchet to Inter Milan and Dhorasoo to AC Milan. You might also remember another great past Olympien who graced several Italian clubs including AC Milan: Nestor Combin.