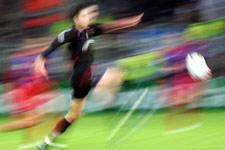 In today's press review, we notice that France Foot has a new format… revamped and cleared up, the match reports are more colourful and easier to read.
[IMG41308#L]
Sports daily L'Equipe chooses to look at the new challenge of Baros. Champions League winner with Liverpool in 2005, the Czech will be thrown back into the deep end against Roma tomorrow. But he says, "to win the Champions League, you need luck… something special". As for the team sheets for tomorrow, there are some lingering doubts. Mexes may well be right for Roma, but Chivu isn't looking so good. As for OL, Tiago, who is still suffering from recurring back pain, is doubtful.

[IMG41303#L]
"Why is OL wary of Roma? asks Aujourd'hui en France before warning the Lyonnais on 3 points: "The Roman team is very close to OL, with very few differences. The Roma attack needs to be watched closely due to its athleticism and good organisation. And watch out for Totti, the Roman Juninho." the daily calls tonight's match at thew Stade Bollaert "Lille's big challenge" faced with Gabriel Heinze and his team-mates, who want to win everything.
[IMG41305#L]
On the eve of the last-16 clash with AS Roma, Le Progrès talks to Cris, who reveals the hopes and ambitions of his club. "We can't wait ti get back into the Champions League because it's a unique competition that's very exciting", admits the OL central defender. There is "so much at stake". Even though, for the Brazilian, Roma is "a good team" with a strong central defensive pairing in Chivu-Mexès and talismanic striker Totti, this time, OL wants to go really far in the competition. The former Cruzeiro defender thinks a scoring draw would be a great result…
[IMG41304#L] This edition features a story on the duel between
Houllier-Puel
, the two managers pitting their wits against the best in Europe. For Houllier, this European tie is anything but run of the mill and for Puel, it's a recompense for the players' hard work over the last 3 or 4 years. "Papa Claude » as Abidal kindly nicknamed him, says all the pressure is on OL. As for Manchester United, it is, along with OL, the form team and the most consistent since last summer.
Another important remark from OL coach
Houllier
: "The quality of defences in L1 is near to that of the Champions League." A few pages on there is a technical report on Francesco Totti, Roma's centre forward who is "a remarkable combination of technique, flair, fairplay, simplicity and effectiveness, Roma's star attacker remains the most inventive Italian playing the game at the moment", according to our colleague Patrick
Urbini
.
[IMG41838#C]