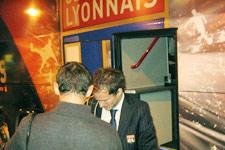 Leaving 45 minutes late, the OL delegation has arrived in the Eternal City. A new adventure begins…
After having waited patiently for 45 minutes, it was time to board the plane. The 20 Lyonnais, who had trained that afternoon, could finally get on board. Portuguese Tiago was still grimacing. "I still have some pain in my back but I've done everything I can. We'll see on Tuesday, the coach will decide."So it seems the chances of seeing "Tiag'" on the pitch on Wednesday are slim. Also, Wiltord, Benzema and Alou Diarra stayed behind in Lyon.

75 minutes' flight time was mitigated by the attentions of "Doctor" Jocteur and the players were barely troubled by the occasional bit of turbulence. Fiumicino Airport made itself starkly apparent in the Roman night. There was no large welcoming committee for the quintuple French champions. Within 5 minutes, everyone is on the bus heading to the hotels 40km away. Rome's more out-lying monuments slowly make themselves apparent in the darkness; immense, magnificent and charged with historical importance.