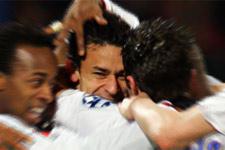 The Brazilian has just scored 2 important league goals that have bolstered OL's morale as well as its league position. And the centre forward's stats since arriving in France are unbelievable…
A huge shot from distance against Lorient for a 1-0 win; a stunningly powerful free kick to equalise against Lille… Fred is back. He has scored 3 goals since the beginning of 2007, which is how long he has been back from the injury he sustained in the trip to Marseille on October 22 2006. The Brazil striker missed 11 matches in total as a result of this injury.

Also, he has played only 1,407 minutes, that's just more than 15 official matches out of 37. He has scored 11 goals… giving him a percentage of 0.71 goals per game. Exceptional, especially considering he only took 44 hots to do it. That's a goal every 4 attempts! Fred was decisive in Lille, against Lorient, in Bordeaux, against Real Madrid and at Steaua (in these 2 matches, he opened the scoring). 8 goals in the league, 2 in the Champions league and 1 in the Coupe de France. 8 with his right foot 1 with the left and 2 headers; 8 strikes from inside the area and 3 from outside.

Last season, Fred had played 2,492 minutes, a little more than 27 matches. He scored 17 goals; 14 in the league, 2 in the Champions League and 1 in the Coupe de France. The percentage? 0.61 goals per game. 17 goals in … shots.

The Brazilian's stats going into the trip to Rome? 3,899 minutes played, a little more than 43 matches for 0.65 goals per game in … shots.