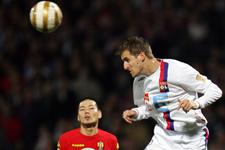 François Clerc discusses the decisive week ahead for OL. He insists the team needs to be "at 100% to even hope to get a good result," and spark off another winning run.
It's a decisive period with important matches against Lille and Rome.
Yes. The two games are very close together, they're really both Champions League matches. It'll be a decisive week but we're ready. We're used to big games like this and we prepare well. The group feels very focused and is going well. These are the kind of games you dream of and jump out of your skin to play.

How do you see this game against Lille?
Against Lille, it'll be a huge match. LOSC is a very strong team. There, we had a nightmare last year, and we haven't forgotten. It still hurts to have lost 4-0. After the win over Lorient, we should continue on our upward trajectory and go into the match against Rome in the best possible conditions. Getting the win would really put us in a good position.

How would you describe this Lille team?
Lille is a very solid team, they stick together, run a lot and don't seem to tire. They're very hard to move around and have progressed a lot technically in recent times. They now play a beautiful game and are one of the best teams in the league. We'll have to be at 100% to hope for a good result there.

Does the chance to play another team in the last 16 of the Champions League give you the best possible preparation for Roma?
I think it's great preparation for the Roma game, be it mental preparation or in terms of our level of play. It will be a high-intensity match, very high indeed. Are you already thinking about the Roma game?
No, that would be dangerous. Playing a poor game or indeed losing would not be a good thing for us. The Lorient match got us back on track after some poor performances. We have to press on to forge a winning run like the one we had in 2006.