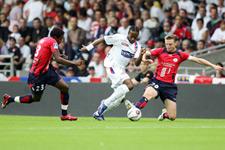 An L1 match between European contenders just a few hours before a continental tie? A great way to dive into the last 32 first leg while consolidating one's position on the league ladder…
And this game isn't just interesting on paper. For more than 2 seasons, these Lille-OL matches have effectively become nation-wide showstoppers. Claude Puel's men have finished on the podium twice and already have their eyes on the next one, before round 25 has even started. As for the Olympiens, you know the tune… These damn Dogues take wicked pleasure in busting OL's chops at home. You have to look back to season 2000-01 for the last time OL won on Lille's turf. Since then it's been a bloodbath: 6 losses in 6 matches!

There's also the memory, happy for some and sad for others, of the 4-0 last season. The Lillois led OL a merry dance after teaching them a lesson at Gerland (3-1). These 6 points taken at the Roi stuck in Gérard Houllier's craw, so he must be able to sympathise with Claude Puel, who of course was on the pointy end of a 4-1 scoreline in the first half of season 2006-07.

And there is the current situation of both teams. OL finally got back to winning ways in the league after 5 winless games (3 losses, 2 draws). Their position on the league table didn't suffer dramatically however. Moreover, Caçapa and co have bigger lead now (11 points over Lens) than at the same time last season (9 points over Bordeaux). Also, OL kept a clean sheet against Lorient; the last time that happened was the visit of Monaco to Gerland! And then Fred scored an important goal for him and the club.

LOSC conceded a draw to Toulouse in stoppage time and is currently finding it difficult to close out games and score goals, having notched up only 4 in the last 7 rounds. Generally, Lille have proven weak, with 5 games scoreless and 13 with a single goal to the credit. It must be said that striker Odemwingie has been silent since round 5. Bodmer can't do everything himself… "We're lacking sharpness in front of goal, we haven't been effective for a few matches now. We have to make the most of our chances on goal…". Jean Makoun said the same thing after the nil-all draw with Nantes and the 1-0 loss to Toulouse. In conclusion, 14 rounds from the ends of the season, LOSC still has everything to play for and everything to lose.

Both teams have European ties midway through next week. Lille will host the great Manchester United… OL will travel to Rome. This OL-Lille meeting has a decidedly European flavour. Mathieu Bodmer still has a sore ankle. Will the goal scoring playmaker be in the team? With or without him, Claude Puel will most likely stick to his customary formation (4-2-3-1). As for OL, Juninho is suspended. Tiago (back) is scratched. Wiltord, Benzema and Diarra still aren't 100% fit. Gérard Houllier may be forced by these absences into fielding an unheralded midfield combination. He is, however, spoilt for choice in the back, with 8 players for 4 spots. "It's a good rehearsal for the match in Rome. We'll play 2 Champions League matches in 5 days. So it's rather good to play a team like Lille, a solid, consistent rival." The OL manager was reassured by the week's training and the result at Lorient, which OL is dying to confirm with a victory in Lille on Friday.