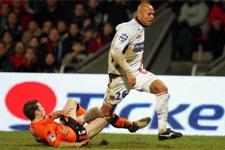 Brought to the club on January 29 to reinforce a troubled midfield, Fabio Santos was introduced to Gerland 2 weeks after his arrival in France.
The injury troubles of Alou Diarra and the repeated yellow cards of Jérémy Toulalan brought the Brazilian defensive midfielder to Lyon so Gérard Houllier could always have a top midfield at his disposal. The winter transfer window was in fact quite busy for a prudent and forward-looking OL.

Dug up by Bernard Lacombe and Marcelo at Cruzeiro for his technique and power, the native of Campina Grande immediately put his physical presence at the service of his new club. His robust double tackle in the first minute of the match showed exactly what he is made of.
An off-target header from an indirect free kick from Juninho and a cut-back pass for Fred (18') showed the attacking side of his game during the first half hour. Sitting between Claudio Caçapa and Juninho in a 100% line completed by Fred in attack, the number 26 spared his team-mates from a Lorient comeback when he cleared the ball in front of Coupet from a le Pen corner.
Making a concerted effort to play as concisely as possible on a difficult pitch, Fabio Santos grew in confidence and complicity with his team-mates as the game progressed.
In keeping his game simple, he again saved his side's blushes on a shot from Taider before, when taking off for a counter attack, tantalising Morel, who received a yellow card for his late tackle (83').

After having worn the colours of Santo André (99-00), Rio Branco (2001), Sao Caetano (02-04), Nacional Funchal (POR-04) and Cruzeiro, the red and blue of Olympique Lyonnais constitutes his second European adventure, and its fitting him like a glove.
Fabio Santos is "undefeated in L1," joked President Jean-Michel Aulas at the end of the match… let's hope it continues.