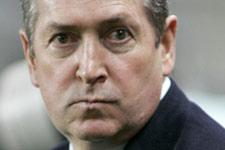 Gérard Houllier has selected an 18-man squad to host Lorient on Saturday. Claudio Caçapa rejoins the group.
The squad:
Coupet, Vercoutre – Réveillère, Müller, Caçapa, Squillaci, Abidal, Berthod, Clerc, Källström, Juninho, Fabio Santos, Govou, Malouda, Fred, Baros, Ben Arfa, Rémy.


Is this a crucial match for the club?
It's a match between the top and bottom teams from the second half of the season; Lorient has been the best team since the break and we have been the least effective.
Our internationals returned yesterday for an important match and it's best to have the full squad with which to prepare for it. We were all over the place the last few days. Happily the club has allowed us the facility of having our players back immediately after matches. Given the number of absences from the squad due to international duty, it's a good thing to get them back so quickly.

Is Lorient a good opponent to make your comeback against?
I'll tell you after the match. We have injuries and suspensions at the moment but I have such confidence in the squad and those who will play that I'm not asking myself the question. The players are aware that our lead has shrunk. We have to get back to our fundamentals, the base principles that made us such a strong team. It's a key game between first (Lorient) and last (OL)so far in 2007. Every time we've played them they have had a fierce will to win and have come back against us. Now, the situation is on its head and it's up to us to show out determination on the field because it's been a long time since we took 3 points from a game.

Fabio Santos? He will play, given the absence of Tiago (suspended) and the injury to Jérémy Toulalan. He is the kind of player who strives to play fairly, a bit like Jérémy Clément. He is very interesting.

Rémy Riou? If he shines, it's because the opposition players have chances. In any case, he's a credit to Joël Bats. Riou is an excellent keeper and one can see that all the players Bats has trained are shining wherever they go.

Do you have any doubts? I'm more perplexed than dubious. Football isn't always logical but we don't look in the rear vision mirror, but forwards to the matches to come. We have 9 points to make up on Lorient, and it starts tomorrow.