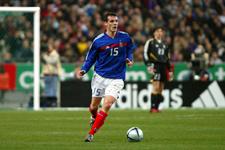 9 Lyonnais played for their national teams on Wednesday.
At the Stade de France, France went down 1-0 to Argentina. On the 15-minute mark, Saviola blasted past Coupet who, having already blocked Crespo's shot, could do nothing to stop the in-form Barcelona hit-man from opening the scoring.
4 OL players, Grégory Coupet, Eric Abidal, Sébastien Squillaci and Florent Malouda, started the match. At the break, François Clerc replaced Willy Sagnol and Sidney Govou came on for Florent Malouda.

The France U-23 team easily accounted for their Swiss counterparts 4-0. Hatem Ben Arfa started and played 70 minutes before being replaced by Lens' Boukari. At the very outset, the OL striker delivered a decisive through ball for Samassa to open the scoring for 'Les Bleuets'.

In Cairo, Egypt dominated Sweden 2-0 thanks to a goal at the end of each half. Kim Källström started but was replaced by Kennedy Bakircioglü in the 66' minute.

Milan Baros' Czech Republic won out 2-0 in Belgium thanks to goals from Koller and Kulic. The OL striker played the first 55 minutes but was subbed off for Kulic.

In Dusseldorf, Switzerland lost 3-1 to Germany. Patrick Müller didn't take the field.