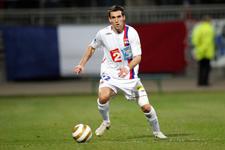 Anthony Réveillère discusses the impending visit of Lorient. The right winger, who has seen some hard times, insists on the need to stick together.
Will a few wins be enough to 'get the machine going again'?
Even one would do (laughs). Then we would hope to string them together. We have to approach this match calmly while staying sharp like we always do. When it's going better, we can look a bit further forward but right now, we're only thinking about the Lorient match. We'll have time afterwards to think about what's to come. We have to bounce back and to get on the right track. The key is to win in order to rediscover the real Olympique Lyonnais that wins all the time.

Do you feel as though your backs are to the wall?
No. Our backs aren't against the wall but it's true that in the league it would be great to get back in the saddle with a win that would do everyone good. After that, we have Lille and Champions League. This match is what's most important before looking ahead; it will affect everything that come after it. So a win is important right now but also into the future. We had a great first half of the season and don't want to throw it away. Sounding the alarm bells won't help anything.

How do you explain the current form slump?
There is no explanation. It's just like that. We assume. It's true that this sort of thing is unusual for this club, but we can't look for excuses or say that it's bad luck or blame physical problems. It has to stop. In every European league, the top teams are doing it tough. Maybe there is a virus. But there's no explanation. We will have the explanation on Saturday against Lorient. We have give everything and do everything to win.

What do you know about Lorient?
They know how to play the ball confidently and they'll be looking to win here because our recent results would have given them ideas and some ambition. We'll play a tough, not an easy, match, we're aware of it, which is the most important thing. We won't be able to say we were surprised. If we're surprised in a situation, it's surprise that there is such a problem. Everyone is psyched up for this match. We can't wait to get back to wining ways.

Do you feel like you're on the back foot?
No. We know we haven't forgotten how to play and that it shouldn't affect our confidence. We just have to do what we know full well how to do, we have nothing to be scared of. We are in a good position on the table. Even though it's a tough time, it's not so bad that we should tremble and not take risks. On the contrary. It's great to be playing in front of our fans, that will be a great boost.

Do you think about the fact that your lead is getting smaller?
No. It could be far worse after the bad spell we've had. We could have lost more of it, but our rivals haven't made the most of our rocky patch. We have to hang on to this buffer zone. We have to focus on our own game.

Is there uncertainty in the squad?
No. it's hard to be worried when you have a lead of 11 points. We're aware of the situation, we're aware that it's just a bad spell. We have to get through it together, as a team. Because it's together that we will make the difference.

Have you been in this situation before?
Yes. At Rennes, I went through much worse when we were playing to avoid relegation. When you play from the first round to the last to avoid going down, that makes you tough mentally. In those moments, your feet shake. In comparison to that, what's happening at OL now is next to nothing.