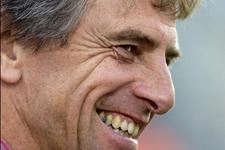 After 23 rounds, Lorient has the best record of the promoted teams, a record that puts the Merlus on the verge of European qualification and, importantly, almost assures them of staying in L1 next season…
9 wins: in Lorient 3-2, Nantes 3-1, VA 1-0, Nancy 2-0, Sedan 2-0, Lens 1-0, in Nantes 2-0 and Le Mans 2-1. 7 draws: in Lens 1-1, and in Bordeaux 1-1. 7 losses: Bordeaux 1-0, OL 3-1, in Lille 1-0, Sochaux 3-1, in St-Etienne 2-0, in Auxerre 2-1, in Nice 3-0. That's 34 points in total, 14 on the road (3 wins, 5 draws and 4 losses).

25 goals scored: 6 from outside the area and 19 inside; 1 free kick (Gignac against Nantes); 0 penalties; 3 goals after free kicks; 6 after crosses; 2 after corners; 5 headers. 12 goals by half time. Gignac 7 buts, Saïfi 5, Fiorèse 2, Le Pen 2, Namouchi 2, Abriel, Morel, Marchal, Marlet, Ciani, Jallet and CSC.

24 goals conceded: 4 from outside the area and 20 inside; 1 free kick (ASSE); 2 penalties (Lille and Sochaux); 5 headers; 6 after crosses; 1 after a free kick; 3 after corners. 15 goals in the first half and 9 afterwards. Notably, they have conceded 10 goals between the 41st and 54th minutes…

Christian Gourcuff has used 27 players. Saïfi, Gignac and Abriel have played all 23 league matches, but only Abriel has played every minute. He is one of the 17 players in L1, including 9 goalkeepers, who can claim this. Lorient is the only team in L1 to have used 4 different keepers: Audard, Cappone, Riou and outfield player Le Pen, who replaced Cappone, sent off against Valenciennes, for 63 minutes; he didn't concede.

29 yellow cards: Marchal 6, Jallet 4, Abriel 3, Le Pen 3… 3 red cards: Mansouri, Ciani and Cappone. FC Lorient Bretagne Sud is the least-carded team in the championship.

On Saturday, the Merlus will face OL for the 3rd time at Gerland. 2-2 in 98-99 and a 2-0 loss in 2001-2002 (goals by Anderson and Luyindula). At home, they went down 1-0, 3-0 and 3-1. In the Trophée des Champions 2002 in Cannes, they lost 5-1. In effect, they are still looking for their first win over OL.

Mr Fautrel will be the match referee. He officiated over Le Mans 1-1 Lorient earlier this season. He was also at the whistle for OL 1-0 Auxerre.