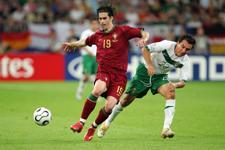 Bernard Lacombe reflects on OL's current form slump. The advisor to the OL President isn't panicking. "The players are eminently capable of turning things around as they are all tough competitors."
How do you see OL's run since the season resumed?
The winter break really hurt us. The internationals in our squad didn't really have a break at all. Against Bayonne then in Laon, we did the job: qualifying. In Toulouse, we could have gone ahead, but in the first half we lacked efficacy in front of goal. I liked two of our matches: against Bordeaux, despite the defeat, and Le Mans. Against Le Mans, which was the most important match in January, we got the result everyone wanted: qualification for the final at the Stade de France. Not everything was perfect, and we missed out on 3 points we should have taken against Nice and in Troyes, but I'm not worried when I consider the quality of our play against Bordeaux and Nice. We just weren't effective where it counted most. The team that started against Troyes was the same as the one that took on Real Madrid. I'm wary of exaggerated judgements. The players haven't suddenly become untalented. A 17-point lead was almost inhuman but now people are saying the players are hopeless. There is a middle ground. We will just the same be champions again. This week, we had 13 players selected for international duty. If our players are hopeless, that means there are a lot of terrible selectors out there.

Squad rotation has decreased due to the recent spate of injuries. Could this be one of the reasons for the current dip in form?
Absolutely. Florent Malouda is one of the players who has played the most. Fred started against Bayonne Laon, Toulouse, Le Mans, Bordeaux, Marseille and Troyes. He was taken off against Nice because he hurt himself in the end of the Bordeaux match. He hadn't played for three and a half months. So there is a disparity in the athletic performance of each player. Some have played an awful lot while others haven't played enough. So it's really good for some of the boys to be called up for their national teams. They get out of the daily scenario, train with new partners and experience a new framework.

Did you ever go through a period like this as a player?
Yes, at Bordeaux, we went through something like this. We would score after 20 minutes and people would say, "there's no suspense any more, it's over". OL's current situation reminds me of my time at Bordeaux. We recovered. The other element to be mindful of is that there were times this season when the ball fell perfectly for us and we were full of confidence. We turned around how many games in the last 5 minutes? PSG twice, Sedan, Valenciennes, Saint-Etienne. At the moment, it's the boomerang effect, and we're in a downward spiral. The players are eminently capable of turning things around as they are all tough competitors who always want to win. Finding our scoring boots gain will be an electric shock; scoring will free everyone up again. On Saturday, the stadium will be packed and all our fans, with whom we've shared many joyful moments, will be behind our players as they have been for the last five years during happier times. Against Nancy or Saint-Etienne, it was the fans who helped us to turn the matches around. On Saturday, we'll be counting on them to help us through this tough time so that together we can win our 6th consecutive title at the end of he year.

What's the role of star players at times like these?
Stars depend on the whole team. Juninho, for example, is a real match-winner, but as he himself reminds us, it's thanks to the collective. But in these periods, Juninho is helped by Tiago, Toulalan, by the fouls committed on Malouda. The great players always know how to make the most of the players around them. I had that with Platini. Whether he likes it or not, Juninho is a phenomenon. He has scored many goals that have got us back on track and has made any number of incisive, decisive passes. It's amazing.

Do you spend much time talking to the players?
I've spoken with "Juni", with Tiago, with Fred. Claudio (Caçapa) also plays an important role. He has took Fred under his wing, and watched him play for Brazil last night; he sees all his matches and tries to help him. After the Marseille game, with Gérard Houllier, we spoke for a long time with Fred. The coach put great trust in him, as have all his team-mates. All the players love playing with him. It's up to him to prove that this trust isn't misplaced.