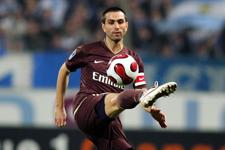 The strikers of the French league haven't been in especially good form since the start of the season. Only 9 goals for Pauleta and Savidan after 23 rounds… but still the Parisian and the Northerner top the goal scorers' chart…
In the last few seasons, only Frei, in 2004-2005, Headed the scorers' chart after 23 rounds with a total of fewer than 10 goals: 9 goals for the Swiss who played for Rennes. He finished the season with 20. In 2005-2006, Pauleta had 14 of his eventual 21 goals. The same player had scored 13 (of 23) 2002-2003. The future top scorer Nonda had scored 11 (26 at season's end). Cissé and Pauleta had scored 15 goals (22 total) in 2001-2002. Pauleta, once again, had scored 11 of his 20 goals 2000-2001. Sonny Anderson finished top scorer with 22 goals.

OL's top scorers at the moment are Malouda and Juninho, with 7 goals apiece. Last season, Wiltord has scored 8 goals after 23 rounds, Fred… 6. The Brazil striker has the same total already in 2006-2007.

After 23 rounds, 517 goals have been scored, 56 more than last season (461)... 482 in 2004-2005… 495 in 2002-2003… 469 in 2001-2002… 489 in 2000-2001… more goals in total, but the top scorers are n the whole weaker. Remember that Fred and Cissé were absent for many weeks.