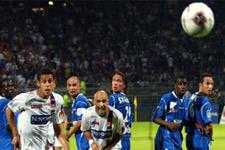 OL's January ended with elimination from the Coupe de France. Now into February, a return to the league and above all to victory, we hope, for an OL facing an opponent fighting against relegation.
2007 started badly for OL, not counting making it into the final of the Coupe de la Ligue. In the rest of its matches, the winning machine stumbled in terms of results and its play. There's no need to panic, and one mustn't exaggerate. It's time now for a huge team effort to stop the rot in the league: 2 points from the last 4 games, and only 2 goals scored! 2 points from a possible 12 has allowed second-placed Lille to shorten what remains a respectable league lead. Lille trail by 13 points, but have taken 6 points from their last 4 games. If this rhythm continues… no need to spell it out.

ESTAC has finally poked its head above the relegation zone, if only buy one small point! But how important this one point is for the morale of this competitive team on the comeback trail. Troyes has gained almost half its total points tally (10 points from a possible 21) in the last 7 games. It's been 4 matches since they lost at home. Even so, nothing is certain in terms of relegation. With players like Nivet, Lachuer, Bangoura, Matuidi, Sanz, Le Crom, Gigliotti, Jean-Marc Furlan's side undoubtedly has the means to save itself. Troyes' Gaël Sanz the heart of the team, is uncertain to paly.

To return to OL, there is no question of panic mongering. "It's through the game that we'll win again; and there's no question of putting too much pressure on my players. We know where we want to go and what it takes to get there. In football, every season has its rough patches. For us, it was January. It will hold us in good stead in the future… A win in Troyes would obviously be perfect for our morale." Gérard Houllier doesn't have time to dwell on it. Getting straight back on track is an indispensable talent in managers and players at the highest level.

So, through match play and a greater effort across the park while maintaining the famous fundamentals that the OL manager often speaks of. OL is flat out of effectiveness and sharpness in front of goal. After the fireworks at lens, 4-0, the quintuple French champions haven't scored more than 1 goal in a match, while conceding 2 goals on 2 occasions , which had never happened before the trip to Toulouse. And in Marseille, in the Coupe de France, the same scoreline reappeared… Fred is back after a long time out; Baros just joined the team; Benzema and Wiltord are injured; Juninho is out of sorts just like Malouda who hasn't scored since Lyon-Nancy in the Coupe de la Ligue. The scorers have the floor now if they have find the chances. As for the aggression of OL's opponents, it deservesa collective response in respect of the laws. The return of Toulalan and the arrival of Fabio Santos, if he is to play, should add something to the challenges and the whole physical impact of the team.

There will also be a choice for Gérard in terms of strategy. Will he bring back the famous triangle in the centre of midfield, will he pursue the pairing up front of Baros and Fred? He has enough cards in his hand, despite injuries, to decide, and even to adapt afterwards. OL will have only one match per week for the next fortnight, except for those players called up for international duty midway through next week. Come on OL, time to get back on track, starting with a win at the Stade de l'Aube.