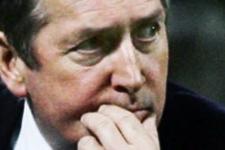 Gérard Houllier has called up a squad of 18 players for the trip to Troyes on Sunday. Sébastien Squillaci, who is being rested, won't make the journey to the Aube. Claudio Caçapa is receiving treatment.
The OL squad: Réveillère, Cris, Abidal, Berthod, Clerc, Malouda, Fabio Santos, Fred, Coupet, Ben Arfa, Baros, Juninho, Källström, Müller, Toulalan, Vercoutre, Govou and Tiago.

Gérard Houllier:

What's the state of Sébastien Squillaci's health?
I can tell you that he won't be making the trip to Troyes as he felt some pain in his thigh at the end of the Marseille game. Even though the MRI didn't reveal anything "tragic", he will not play as a precautionary measure.

Could his absence see the return of Caçapa?
He is still slightly injured. He didn't train on Wednesday and only partly on Thursday. He's suffering from an inflammation to the scar from his operation. He isn't 100% confident on shots. To take him to Troyes would be irresponsible and unwise.

You've had a torrid time of it in January…
January's over, bring on February. The team is strong. The mentality is there, and it's positive. We have 3 important challenges ahead of us. We had a rough patch that brings everyone down to earth. My only worry is that the referees don't protect us. We are being battered.

Do you feel you have to match the level of aggression shown by your opponents?
You have to respond through your game. The men in black have their responsibilities, and we have ours. I am deeply convinced that we will rediscover our dynamic through strict and rigorous application of our fundamentals. You have to do what you know how to do and forget the rest. We have to stake our claim in the challenges and in terms of physical impact. But one mustn't confuse aggression and violence. Aggression is healthy. What I don't like is violence. The referees have been too lenient on our opponents who were out of line.

What do you mean by "application of our fundamentals"?
The fundamentals do not consist of aggression. It's the game. It's what we do when we have the ball and when we don't. Our matches haven't been without substance. We had 45 shots on goal against Bordeaux and Nice. One certainty is that every player is part of our defensive strategy. You have the best attack because you have the best defence. When you defend well, you attack more freely. It's a job for 11 players. Defending well confirms your attacking qualities.

Are your players suffering from a confidence crisis?
No. Not at all. They are perplexed, but that's in the past. In the present, we have quality, we have strengths and we have the fundamentals. Now, for us, the most important thing is Troyes. But a win won't solve all our problems. I'm more concerned about how we win.

Do you feel the need to put a particular pressure on your players?
I don't need to add any pressure. They know what the challenges are. The only demand I have is to say to them, "Carry on, push your advantage, be more vigilant technically but above all, don't let anything slide". The road to victory isn't always a straight one. There are tough times, rocky times, periods of adversity. This is one of them. We can only move forward if we have this drive to do better while still keeping our fundamentals. I won't change my culture. I won't change my philosophy. I know exactly what my team and my management are worth and we will fight to the end. Don't ask me to destroy what it's taken a year and a half to build. My job is to be with the players to fight through this dip in form that has provoked doubts. At the moment we're bearing the brunt of it all, but we'll bounce back soon to how we were.

How is Fabio Santos going?
He is fitting in well, and he will be in the squad. Physically, he seems to me to be in good shape.

What is your reaction to the events that have rocked the Serie A in Italy?
I was shocked. The problems in and around the stadiums have to be seen to without hypocrisy. They need to be dealt with without waiting for a tragedy like those that hit English football several years ago. In this area, I don't believe we have the time for education. We need "preventive repression". In a car, when you see a speed camera, you slow down. I'm not optimistic as far as this subject is concerned.