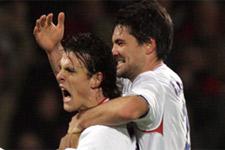 Before the trip to Troyes, the OL central defender reflects on the rough patch the team is going through at the moment. "We've forgotten the loss to Marseille," he states. "We're looking ahead."
How are your spirits after the Coupe de France loss to Marseille?
Sure, there is disappointment, but we have to move on. We have an important match in Troyes. We still have quite a few objectives: the final of the Coupe de la Ligue, the Champions League and the league itself. The loss has been forgotten. We're looking ahead.

We're not used to seeing you crack at the end of a game. How do you explain this scenario?
It's a bit of a shame. We didn't play a bad match at Marseille but we conceded 2 goals in 5 minutes. They played a lot of attackers. On our side, we couldn't manage to score the second goal that would have done us a lot of good. Sadly, we couldn't hold on. That's how it is at the moment. We have to work hard from now on and be even more concentrated so we come out of our next matches smiling.

Is the team frustrated after a poor string of results in January?
Yes. We are all competitors. It's what we love, the victories we strung together in the first 6 months of the season. We all want to bounce back quickly before we get to the last 16 of the Champions League.

What's the vibe like in the squad? Are you affected by the 3 losses in18 days?
No. The atmosphere is still there, even though we were pretty disappointed after the Marseille game. But we've got a lot of great things ahead of us. We really have to focus again and win quicksmart in order to put together a winning streak. We have to get a hold of ourselves quickly. At the moment, we know that everyone has to give that little bit more because things are tougher now. We will all roll up our sleeves.

In your opinion, what has been going wrong?
It's holistic. When you don't concede goals, it's because the attackers are doing a good job. And it's the same when you score. Not everything can go your way in a season; there are always some moments that are tougher than others. Everyone has to do more to ensure that we shore up our defence and score goals. That goes for everyone from the striker to the keeper. In the first 5 months we managed to keep out that goal that would have hurt us. Right now, we do it less often. That's one of the reasons.

One wouldn't have thought there would be so much pressure surrounding a trip to Troyes…
we still have a 13-point lead. The season is long, and you shouldn't put too much pressure on yourself, and above all start over with a win and 3 points. We're all experienced, we've all played in tougher matches. Everyone will measure up to this match. A win would do everyone good.

What does this Troyes team evoke for you?
I remember a really tough away game. We take Troyes very seriously. They play a containing game while we lead the league, so it will be a hotly contested match. Physical impact is very important in this type of game. It's up to us to answer any questions asked of us, and we have the potential to do so. We're not here to commit fouls but we're there in the challenges. To success at a high level, you have to have the technique we have but also the physical combativeness we also possess. What makes great teams strong is the ability to conjoin these two qualities.