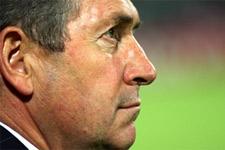 After the elimination by Marseille, Gérard Houllier gave us an exclusive interview. He reflects on the situation his team finds itself in at the end of January.
[IMG41804#L]
Does the team's form in January 2007 seem worse than in the past?
"No, there were suspensions and injuries in strategic areas. In the form and quality of game he showed at Bayonne, Alou Diarra would be a great boost right now. The team knows what it's doing, as does the staff. Both groups are conscious that we're going through a rocky period now. It's up to us to make it a short as possible and to manage it well, keeping the fundamentals of our game intact. Once we establish those, everything will get back on track. In Marseille, we were better than we have been recently, but we just needed another 5 minutes. And I repeat that we can't explain everything that has happened. One mustn't blame the players. Marseille had divine inspiration in the dying minutes."
Is the match in Marseille emblematic of OL's January?
"No because there were good moments, combative moments. It was a tough situation. There was substance to our game. To lose 2-1 to Marseille on their ground, I don't find that dishonourable. It's the one that got away. That's that."
[IMG41806#L][IMG41807#L]
In Marseille, you lines up 2 midfielders and 2 attackers for the first time this season. Can you explain your tactical choice for us? What were the instructions at kick-off?
"I don't usually like to give public explanations of our tactics, but since we lost, I will. We had just played two matches at home, against Bordeaux and Nice, in which we had 45 shots on goal for a return of two goals. There were two motives; first of all to surprise the opposition, because by now everyone knows our game well and can counter us more effectively. At least, they think they know. But it was also to surprise my own team, to get them to bounce back, as well as to get the most out of my team's attacking potential in a match where we had to come out winners, by playing Fred and Milan Baros at the same time."
Did you decide to let the Marseillais play, in order to see them coming?
"No. The OM team is made up of two sectors: a defensive sector with four defenders and two defensive midfielders who do the dirty work cleaning up in front of the penalty area. And then they have four very powerful, very attacking players. The objective was to control these attacking players and to play our own game. After 25 minutes of the first half, I was very confident."
Were you tempted at any time to put Fabio Santos on the team sheet?
"I don't think it would have been good for him to have been thrown into a situation like that first up. Before anything else, I wasn't completely sure of what form he was in. bit by bit, I'll see. He's not here just for one match but, I hope, for several years. I need to know more. The only full-team training he has been able to be part of was the day before the match. In another context, I might have let him play. But in Marseille, it would have been tough for him. Also, I had the opportunity, given the absence of Jérémy Toulalan, to play a different system."
[IMG41809#L][IMG41808#L]
During January, one often got the impression that your opponents became more and more aggressive and that OL didn't respond to this. How do you explain that?
"I can't put myself in the referees' place. All I'm saying is that Marange got his first yellow card after 30 minutes even though he had spent that time scything down Sidney Govou, and that Cana got a yellow after an hour. I think that if our players inflicted that kind of aggression on their opponents, they would be hard-pressed to finish the match still on the pitch. We have to toughen our game up a bit, but that doesn't mean committing fouls. It means we need to find a superior way of being aggressive. I was struck during our last two home matches by the lack of control the referees showed in particular circumstances; there were some malicious fouls committed on us. And when I see Juninho commit one foul and get a card, it seems there is a real double standard at work. And what does that mean? It's not about crying or complaining. It simply means that when you are the league leader, and things are going well, you are not helped along the way. There is more indulgence for the fouls committed by your opposition and for their aggression, which is sometimes beyond the pale. There is a protection of your adversaries. Which means you have to be even tougher in terms of your level of play. The opposition's game no longer corresponds with their normal level of play. They play two or three notches above themselves, which was the case in the dying minutes against Marseille. You have to take that into account. But instead of seeing it as an inconvenience, it's just another hurdle on the path to the trophy you want to win. It makes whatever you achieve all the more valuable."
Do you feel that the absences of Toulalan and Alou Diarra, particularly in terms of ball winning, affected the match against Marseille?
"Certainly. But I think my midfield had a very good match against Marseille. Sidney Govou, Florent Malouda, Tiago and Juninho performed very well. We created chances for ourselves, and had two or three chances to score our second goal. There are several elements to take into account. At the moment, we have found it hard to score; we're hurting the opposition less; the pitch surfaces have disadvantaged despite the quality of our game. Finally, in this second half of the season, Lyon gets fouled more and is protected less. It's up to us to overcome it."
[IMG34122#R]
Do you think that with "Djila" Diarra this could have been different?
"I don't want to comment on the departures of this one or that one. In this case, why not come back to the departure of Mikael Essien? We had enough good results before this match not to ask this question. Perhaps with Bernard Lacombe, we would have scored more goals. When things go badly, people are always full of ideas. We know we have three challenges. Sure, we were knocked out of the Coupe de France, but we didn't lose against Sedan at home or against Montceau away. We lost in Marseille where, for 20 minutes, OM was phenomenal. We can't explain everything and we can't change everything. That's how it is, and you have to accept it, even though I think we would have won had the match been played at Gerland. Three challenges remain: a title we want to win, a Champions League quarter-final against Roma, which won't be easy but which we believe we can win, and the final of the Coupe de la Ligue. So our objective is to concentrate on what's coming up, on our trophies. There will still be lots of joy and happiness for our fans. The elimination was certainly tough and cruel but that's a part of tough competitions and the challenge we are faced with. You have to know how to bounce back and take your time, to recognise that January was tough and that is raised doubts. But you combat doubt with action, with movement, by taking risks, and above all not by discussing things in a café, explaining the world away with smoky theories. We will have no respite in February and March, so let's get on with it! In every match, we have shown something, we have been confronted by the aggression of our adversaries and a kind of indulgence from the referees. We even found commentators mad with joy when our opponents equalised. That has to be even more motivational for us and exultant when we win the trophies we are after. If we achieve a double, it will make history. Four trophies was an almost inhuman goal. Between the first and second legs against Rome, we will play three matches. I don't know what team I would field."
In the first half of the season, OL often won the match in the last 15 minutes. Now it's your opponents who are doing it. Do you tell yourselves that that's part of football?
"The team is strong. The mentality is there. The spirit is positive. We have done 15 times what was done to us in Marseille by an inspired team. I only regret the second goal."
[IMG41811#L][IMG41810#L]
Have your opponents decrypted the OL game plan?
"When we won it wasn't by accident. The worst would be to believe that we should wait for better days, without doing anything. We to provoke, to insist… the touch will return. We're lacking a bit of success in front of goal. Our poor results don't mean our opponents have found the solution. They couldn't predict what would happen to us. This kind of observation isn't coherent. You know that when you don't score enough and you let in too many, that the whole team is concerned. We need to find our rigour again."
[IMG41813#L][IMG41812#L]
Can the transfer market have an impact on the squad?
"there is no doubt it is destabilising. August and January are delicate periods. It's tough in terms of man-management. When we look for a forward, it can upset Fred. But Fred knows he was out for several weeks and that we had to be able to play without him. Football is a team sport, you have to have competition. Fred will get better and better; he's almost back to his best. He played a month of friendly matches…so the best is yet to come. You have to fight doubt that can set in and be contagious. We have to keep our good humour, keep our heads screwed on, stay super-professional, putting an emphasis on rigour, not negligence. We have three challenges ahead of us that are all considerable things. The league title would be great for Jean-Michel Aulas' 20th year as President of OL, which will be a record among the major European leagues. There is the final of the Coupe de la Ligue and the Champions League. There are no easy matches. January has been a good rehearsal for what's to come."
[IMG41803#L][IMG41802#L]
Is there a dependence on Juninho?
"Yes, that's true. Juni has got us out of so many tight spots that we've come to expect it of him. His role in the match is important; free kicks are and added bonus. In play, we are less effective, less fluid, even though it reappears at times. Once we have rediscovered these aspects of our game, he will also rediscover his considerable qualities. The fact that we are dependant on great players is common to all great teams, and is why we did everything to keep him. In the absence of Caçapa, he is my captain; I'm proud to have kept him. He is just a bit worn out at the moment. But in general, it's useless to dwell on it. All I'm interested in from this point is Troyes. It's important that the whole club stays tough. Periods like these are part of the life of a team during the season. Me, I've turned the page. The team is there; the matches haven't been devoid of substance. We had four targets; now there are three… The defeat to Marseille 5 minutes from the end didn't dishonour us. We had beaten OM 4-1 in the league. The Marseillais took their revenge, and good for them. We still have much joy to bring to the club and the supporters. The players know there is still a lot left to win."
[IMG41815#L][IMG41814#L]
What is your position on the subject of Caçapa?
"I'm still counting on him. At the moment, he is still injured (old injury); and we are taking care. He is part of the leadership group; he has an aura, he has influence. We will also win with him, even if the in-form central-defensive pairing is Cris-Squillaci, without forgetting Müller. Claudio started the season and then got injured; his recovery has taken longer than expected. It's not easy for him, because he was used to starting. He was always at the top of my list. It'll be tough for him to win his place back at the moment. But his attitude is remarkable, and that's very important."
[IMG41817#L][IMG41816#L]
Do you have to know how to bounce back? What do you expect from Troyes?
"Talent is the way to bounce back, and we have a lot of talent in the dressing room. Don't worry. The biggest danger is getting spooked. Look at the matches in January. For me, Toulouse was a bad match in the second half; Bordeaux, we handicapped ourselves from the start and then faltered, which is not to mention the penalty that wasn't given. Against Nice, we missed a penalty. That would have meant three extra points the media wouldn't be there asking itself so many questions. In Marseille, we lost at the death. There's nothing there to inspire panic, except for if we had been completely hopeless. But that's not the case. We had chances against Marseille… there have been positives in our matches, and we need to build on them. At the moment, I have fewer choices, fewer trump cards, and fewer riches. Wiltord, Benzema and Diarra are out. There are injuries. Marseille could bring on Pagis and Niang. We didn't have the same attacking options as before, but they will return. My coaching is less at ease. In Marseille I had only two midfielders on the team sheet.
Do you regret any of your decisions from January?
Honestly, I can't control everything. But if I had been able to better control the end of the game against Marseille, things could have been different. Maybe that's where my regret is."
Against Troyes?
We have to get out there and play. I don't know when we will string together some good wins again, but I do know it will happen. A win at Troyes wouldn't necessarily be the perfect response, but it would be ideal for morale. I won't put huge pressure on my team to win in Troyes. What I hope for more than anything is that the team gets out there and plays. It's a tough time because of the pitches, the referees and the opponents. We have to get over it and not complain and whimper. We have to show ourselves to be tougher mentally and physically. We have to keep our match philosophy intact; we are always saved by the game. That suits us fine, we will play a team that plays."
The Gérard Houllier interview on video on OL Web Premium!